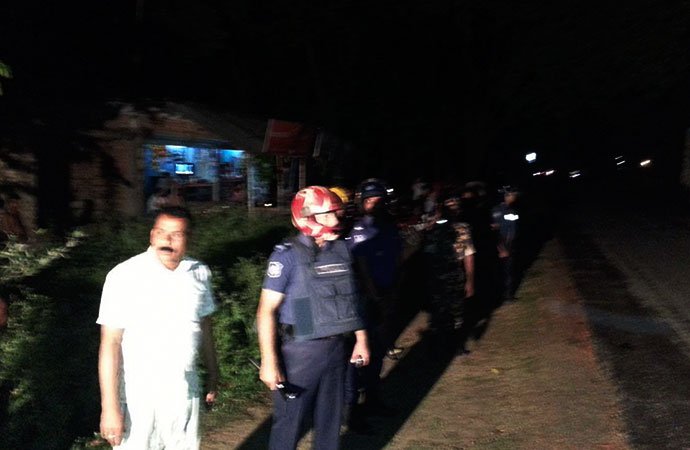 The Counter-Terrorism and Transnational Crime (CTTC) unit has recovered a large number of Improvised Explosive Devices (IEDs) and three suicide vests along with explosives from a militant den in Jhenaidah Sadar.
"The CTTC team cordoned off the one-storey building on Friday afternoon, suspecting the presence of militants in Porahati area," CTTC Deputy Commissioner Mohibul Islam told the Dhaka Tribune.
A CTTC source said the building was used by the militants to make bombs and train fellow militants.
The CTTC suspected the presence of high-profile militants due to the frequency of militants entering and exiting the site, the source said.
"After the end of the operation, the CTTC team recovered one 9mm pistol, three suicide vests, one pressure cooker bomb, 20 chemical containers and a large amount of IEDs and detonators from the den," Dhaka Metropolitan Police Deputy Commissioner (media) Masudur Rahman confirmed.
However, the CTTC team did not find any militant in the hideout. "The militants might have fled, sensing our presence," the CTTC deputy commissioner said.
"A man named Abdullah lived in the building with his wife. But they were not there during the drive," Jhenaidah Police Superintendent Azbahar Ali Sheikh said.
"There are two rooms in the brick and mortar building, which has a tin roof. We are yet to collect the details of the homeowner," the SP said.
Last year, at least four people including a Shia preacher were killed by the militant outfit New JMB, which is linked to Islamic State group, according to claims made by IS through its online media.
The deceased are Chhamir Uddin Mandal, an elderly homoeopathy doctor who was converted to Christianity in 1993 and again switched back to Islam; Abdur Razzaq, a top Shia preacher and homoeopathic medicine practitioner; Ananda Gopal Ganguly, a sexagenarian Hindu priest, and another Hindu priest Shymanondo Das.
Besides, locals of Sonalipara in Jhenaidah town claimed that Nibras Islam, one of the terrorists who carried out the Gulshan attack, had been living there since March under a false identity.
Source: Dhaka Tribune