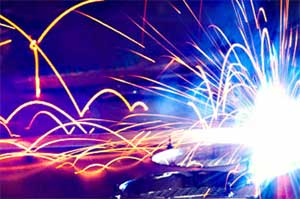 Country's steel industry is poised to make a jump start as Japan's Kobe Steel Group
has made a foray into Bangladesh's welding market in partnership with a local company under its brand name Kobelco.
Industry sources said the new Japanese steel maker Kobe Steel will supply its welding products to the Chittagong-based firm, TSI Marine, which will sell the items in the local market.
Bangladesh's requirement of welding electrodes is around 0.7 lakh tonnes a year.
A sole distributorship agreement between the two firms has been signed in Singapore on February 20, and it was announced at a programme in Chittagong on Saturday.
Syed Samiul Huq, director of TSI Marine Limited, and Hiroyuki Negoro, sales and marketing manager of Kobelco Welding Asia Pacific PTE Ltd, signed the deal on behalf of their respective parties.
"Initially we will supply welding electrodes that are widely used in various sectors in Bangladesh. But our target is to make a strong position in the shipbuilding building industry here that is growing very fast," said Shinichi Tanaka, managing director of Kobelco Welding India Private Limited, an entity of Kobe Steel Group.
Gradually, they will introduce high-end welding materials that are more long-lasting than the traditional items.
"The commonly used electrodes take more time for welding. If it takes four hours to finish a welding job with traditional electrodes, it will take only one hour to finish the work with our electrodes and of course without any defect."
In their first year, they are aiming to sell 100 tonnes of welding electrodes in Bangladesh. The group's Singapore wing will supply the products to the Bangladeshi distributor.
"We will set our next strategy after receiving the response from the local market," said Tanaka.
"Even, we may think about investment or setting up a plant here in future. But, it depends on the market response," he said, adding that they have such welding material manufacturing plants in India, Singapore, Thailand and Malaysia.
Founded in 1905, Kobe Steel is the third largest steel manufacturer in Japan with an annual turnover of around $16 billion. The group employs some 36,000 people across the world.
The group's 40 per cent turnover comes from steel business, 5 per cent from welding materials and the rest from other segments including construction materials.
Source: Weekly Holidaty