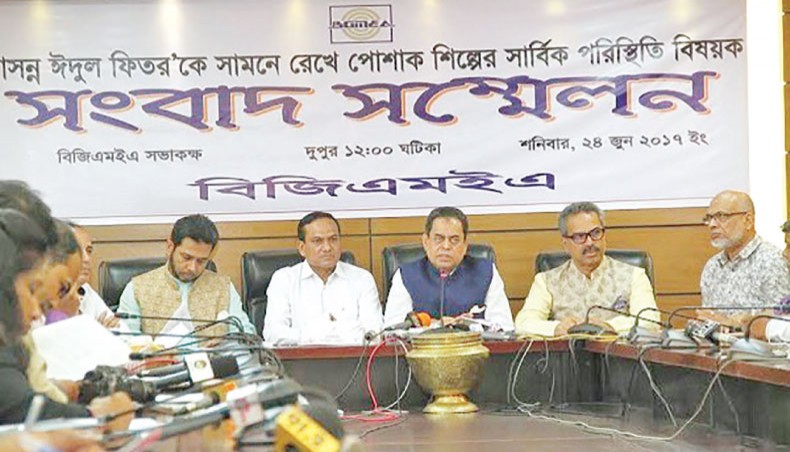 The Bangladesh Garment Manufacturers and Exporters Association on Saturday said that there would be no need to extend the tenure of EU retailers' group the Accord on Fire and Building Safety in Bangladesh beyond 2018 as the ongoing remediation work under the supervision of the platform at the readymade garment factories in the country would finish by this year.
'If the government allows, the Accord can stay in Bangladesh beyond 2018 as a monitoring team,' BGMEA president Md Siddiqur Rahman said at a press conference at the association's headquarters in capital Dhaka.
Replying to a question, the BGMEA president said that the Accord and North American buyers' platform the Alliance for Bangladesh Worker Safety were working in Bangladesh to ensure fire, electrical and structural safety in the RMG factories but the platforms were yet to place any official proposal for extending their tenure in the country.
Following the Rana Plaza building collapse in April, 2013, that killed more than 1,100 people, mostly garments workers, EU retailers formed the Accord while North American retailers formed the Alliance undertaking a five-year plan, which set timeframes and accountability for inspections and training and workers empowerment programmes.
Both the initiatives in February 2014 launched structural, electrical and fire safety inspections at the factories from where they procure products under a common safety standard.
The timeframe of the platforms will end in July, 2018.
'We have heard that the Accord wants to stay here five more years but it has not made any official appeal in this connection. We hope that the remediation work the platform is supervising will be completed by 2017 and no extension [of Accord's tenure] will be needed,' Siddiq said.
Citing a meeting with representatives of five big global buyers, the BGMEA president said that the buyers expressed concerns over delay in releasing samples from the Hazrat Shahjalal International Airport in Dhaka and delay in berthing of ships at the Chittagong port.
He said that delay in loading and unloading of containers was also hurting the country's export business.
Siddiq blamed complexities in customs procedures for the delay.
The BGMEA president said that the global buyers thought Bangladesh was losing business worth $1 billion in a year due to procedural complexities and delays at the airport and the sea port.
BGMEA vice-presidents Faruque Hassan, SM Mannan Kochi and Mohemmed Nasir were present, among others, at the briefing.
Source: New Age