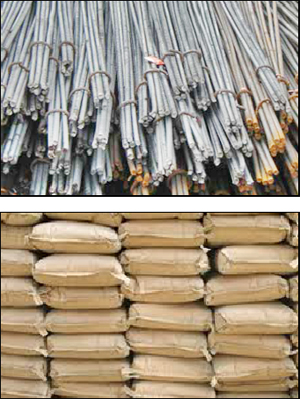 The market for construction materials like rod and cement is eyeing big boost with the opening of the construction of Padma Bridge scheduled for November this year. The bridge project will also create more jobs to local workers and technical personnel including boost to supply of multiple services to main contractor of the project.
Especially business houses running cement and rod supply are eyeing big supply orders. They are beaming with confidence as they have already supplied quality construction materials for some key infrastructure projects such as Jatrabari-Gulistan and Kuril flyovers and the Hatirjheel project.
Local firms have also provided cement and rod for the construction of the approach roads of the Padma Bridge. Now that the government has finally signed the agreement with a Chinese firm to build the main bridge and there are no conditions on who to supply construction materials, local companies have started mobilizing efforts to raise their production level and get contract to secure supply orders.
Bangladesh already produces quality cement and rod and the mega project may bring them big orders to harvest profits.
Reports in a local English daily quoted Shafiqul Islam, project director of the Padma bridge as saying that local and foreign companies may supply construction materials based on their quality. The quality aspect will be the only issue," he assured.
The construction of the main part of the bridge, including river training, will cost around Tk 20,000 crore.
Jashim Uddin Khandaker, vice-president (sales and marketing) of Holcim Bangladesh, a leading cement maker told the media that concrete is a major construction material and they have introduced a concrete solution section in their production system targeting big infrastructure projects like the Padma bridge.
He said they have already conducted research in their own laboratory on the construction materials that can be used in the project further adding that they may bring in foreign expertise, if necessary to ensure quality.
He emphasized that there is no need to import construction materials like concrete and cement. The facilities in the country are enough to supply, he argued.
Holcim contributed to construction of some big infrastructure projects such as Bhairab and Rupsha bridges, Hatirjheel project, and Kuril and Jatrabari-Gulistan flyovers.
Bangladesh's cement production capacity is almost doubled at 18 million tonnes a year, Khandaker said. "Quality also matches international standards."
M Firoze, head of marketing and product development of BSRM Steels, said whether the local companies will qualify for supplying rods for the bridge project will depend on quality and timely delivery.
He said his company is already providing rods for culverts and bridges for the Padma Bridge approach roads. They hope to supply for the main bridge project as well.
Mohammed Jahangir Alam, chairman of MI Cement Factory producing Crown brand cement, said they have experiences of supplying quality construction materials—both cement and rod—for mega infrastructure projects.
He said they have participated in the Jatrabari-Gulistan and Kuril flyovers and now supplying materials for the approach road, Alam said.
Bangladesh has the capacity to produce around 70 lakh tonnes of rod a year, while the local demand is around 40 lakh tonnes, Alam said.
Source: Weekly Holiday