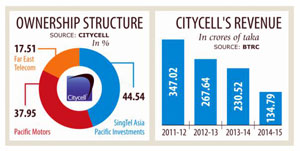 Citycell which is the country's one of the first generation mobile phone company is set to lose its operating licence after the management failed to pay its outstanding dues amounting to Tk 477.51 crore.
Citycell's subscribers have been asked to switch to another operator by August 23 after that its switch may be put off any time to run any business. Earlier on July 31, Bangladesh Tele Regulatory Commission (BTRC) issued a public notice and asked Citycell's subscribers to switch to other operators by August 16.
State Minister for Telecom Tarana Halim told the media last week Citycell has about two lakh subscribers at the latest which stood at .19 lakhs in 2011.
"We have taken the final decision of shutting down Citycell following all procedures as we have not received any response from the operator since long," Telecom Secretary Faizur Rahman Chowdhury has been quoted as saying in this respect.
Bangladesh Telecommuni-cation Regulatory Commission will now forward its recommendation to the Prime Minister's Office to terminate the license.
Citycell began its operations in 1993, though its licence was awarded in 1989.
Singapore's SingTel owns 44.54 percent shares in Citycell, Pacific Motors 37.95 percent and Far East Telecom 17.51 percent.
Shareholders have been trying to sell the company for the last few years, but they did not find any interested party.
About the possible impact on the sector of Citycell shuttering, Tarana said: "We want to set a precedent that no-one is above the law. Every operator has to run its business as per the law."
THe government is however silent about the fate of Citycell employees who will lose the jobs. Telecom experts said the government is being very tough on Citycell for the unpaid dues, but it has not taken similar action against Teletalk or Bangladesh.
Some hold the view that since it was run by the BNP leader, the government may be taking it otherwise.
Telecommunications Company Ltd. Their combined dues go upwards of Tk 3,000 crore.
In response, Tarana said both Teletalk and BTCL are government-owned companies, so steps will be taken to legalise the dues in favour of the government.
"We can take Teletalk's dues as prepaid capital — a proposal along this line is now under consideration of the government," she added.
BTCL's dues stand at Tk 1,645 crore and Teletalk's Tk 1,585 crore, BTRC sources said.
Over the last two weeks, the majority of Citycell's active customers jumped ship, with the operator's daily revenue plummeting to ground.
Citycell did not pay the second and third instalments — amounting to Tk 229 crore — of its spectrum renewal fee. The renewal took place in 2012.
Besides, it owes annual spectrum fees totalling Tk 27.14 crore from 2013 through to 2016; revenue sharing proceeds of Tk 27.84 crore from 2014 to 2016; social obligatory fund contributions of Tk 8.92 crore from 2011 to 2016; value-added taxes of Tk 39.92 crore; and Tk 135 crore in penalty.
Earlier in April, BTRC filed a case against the operator under the Public Demand Recovery Act to realise the dues. If needed, the telecommunication watchdog will enter into other legal fights with the operator, Tarana said.
About the recovery of the dues, Chowdhury said they would move for legal action after the final decision of the government.
Source: Weekly Holiday