Two people have been killed in an alleged gunfight between law enforcers and unknown miscreants at capital Dhaka's Jatrabarhi, police say.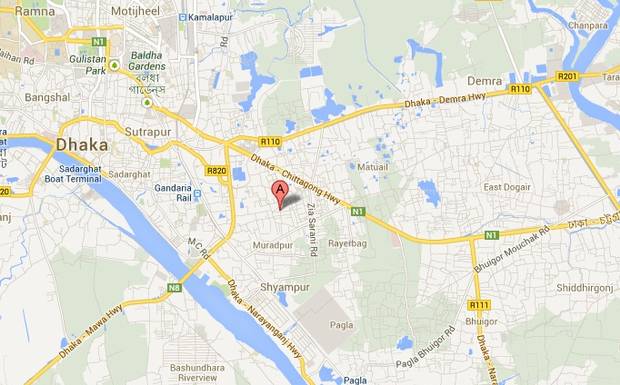 Jatrabarhi Police Station Sub-Inspector (SI) Emranul Islam said the incident took place around 5:30pm on Saturday at Sutikhalparh's Balur Math area.
The two were identified as Salahuddin, 29, and his accomplice 'Jewel', 28. Four policemen were also injured at the time.
Police said they were known to be involved in terrorist activities.
Several cases including one for murder were registered against them at Jatrabarhi Police Station, SI Islam said.
He said the duo was arrested from Kajla's Nayanagar area at noon on Saturday. Police had started a drive to recover firearms based on the information provided by them.
He added that police had fired back after miscreants started shooting at them at Balur Math area.
Emranul Islam said Salahuddin and Jewel had died on the spot during the shootout.
Dhaka Metropolitan Police's Additional Deputy Commissioner (ADC) Mehedi Hasan told bdnews24.com that one pistol, one revolver and three rounds of bullets were seized from the scene.
"Evidences were found about Salahuddin's involvement in cases filed over murders of four police informers including Amit, Rabbi and Alamgir," he said.
Responding to a query, ADC Hasan said four policemen's injuries were not critical. They were released after administering first aid.
Source: bdnews24