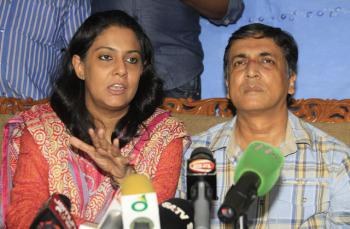 Chief Executive of Bangladesh Environmental Lawyers' Association (Bela) Syeda Rizwana Hasan on Friday sought security for her family as they suffer from a sense of insecurity though her abducted husband has been released unhurt by abductors.
She came up with the demand while addressing a press conference at her Central Road residence on Friday afternoon following the release of her businessman husband Abu Bakar Siddique by abductors.
Rizwana said though her husband was released unharmed, her family members are suffering from a sense of insecurity following the incident. "So, we demand security for our family."
Rizwana said she was not sure whether the abduction was a planned incident, but she got an impression that abducted people are confined to the place where Abu Bakar was kept. "It seems that the house where my husband was locked up is regularly used to confine abducted people," she said.
The Bela chief said that the abductors tried to hide the motive of the abduction and their identities by asking the name and work of her husband.
Rizwana extended special thanks to the Prime Minister for directing the law enforcing agencies to take prompt action for rescuing her husband.
She also thanked others, including BNP chairperson Begum Khaleda Zia and other political leaders, for their concerned as well as the law enforcing agencies and the media and the people of the country for their support.
Rizwana expressed her hope that the law enforcing agencies will soon unearth the mystery of the incident.
Abu Bakar Siddique narrated how he was abducted and released.
Unidentified miscreants abducted Abu Bakar Siddique from Bhuingarh on Dhaka-Narayanganj Link Road under Fatullah Police Station in Narayanganj on Wednesday afternoon.
He was released by the abductors early Friday.
Source: UNBConnect