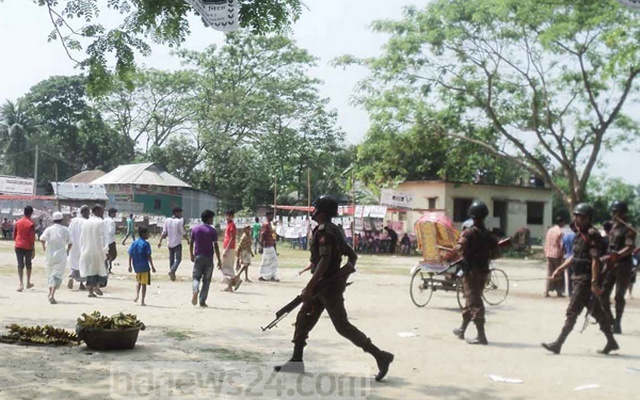 Bangladesh is among 30 countries listed by the UK that have shown no improvement in matters of human rights.
The annual report for 2015, also looking at democracy and the rule of law, was released by its Foreign and Commonwealth Office on Thursday.
It focuses on 'unresolved tensions' between Bangladesh's two major political parties – the Awami League and BNP – that contributed to widespread violence across the country at the beginning of the year.
"There was no improvement in the overall human rights situation in Bangladesh in 2015."
The BNP's indefinite blockade to mark the passing of a year after the general election it boycotted and the arrest of its senior leaders impacted on people's security and livelihoods, it said.
"The relatively peaceful and participatory Municipal Elections on 30 December, held on party lines for the first time, were a positive development," the report has said.
Other 'human rights priority countries' in the review included Afghanistan, Pakistan, Sri Lanka and Maldives from South Asia. Myanmar, China, Iraq, Iran, Syria and Congo.
As for free speech in Bangladesh, the report said it came under increased threat with more attacks on writers promoting secularism and religious minorities.
The UK provided safety training to Bangladesh's bloggers, it added.
The report found that an overloaded justice system was behind a culture of violence with people taking matters into their own hands.
The UK contributed £3.7 million towards justice sector reform and a further £1.2 million for a police reform programme in Bangladesh in 2015.
"NGOs reported that excessive use of force, extra-judicial killings and enforced disappearances were conducted with impunity…," it added.
Showing concern over death penalty prevailing as maximum punishment, it mentioned there were five executions in 2015.
Three of them were convicted as war criminals by the International Crimes Tribunal, which according to NGOs, fall short in 'independence' and 'process', it said.
The UK report observed women still do not enjoy the same social status as men, and gender-based violence remains a substantial problem in Bangladesh, despite women's considerable contribution to economy.
Child marriage also remains a significant concern, according to the report.
It said Bangladesh has a growing economy and aspires to reach middle-income status by 2021.
"We encourage the Bangladesh authorities to ensure that this is matched by a positive human rights trajectory during 2016 and beyond," the report added.
Source: Bd news24