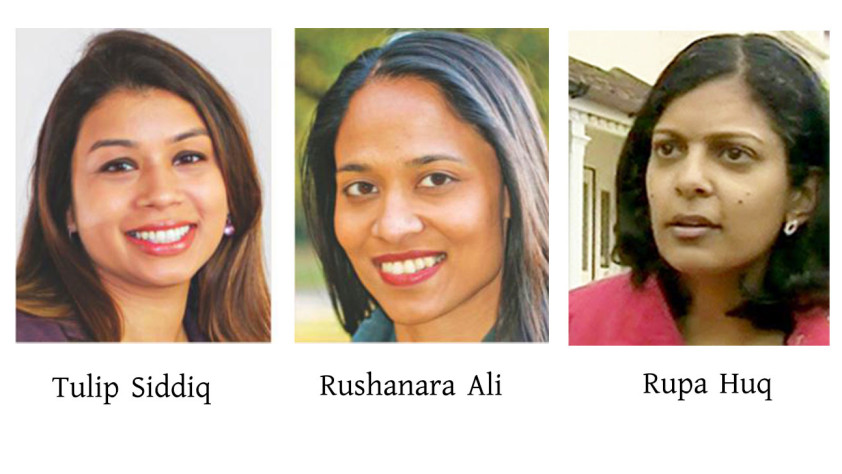 Tulip Siddiq, the granddaughter of Bangabandhu Sheikh Mujibur Rahman and niece of Prime Minister Sheikh Hasina, got 23,977 against her Conservative counterpart Simon Marcus' 22,839 votes in the Hampstead and Kilburn constituency, according to BBC polls result.
Courtesy: BBC
Rushanara Ali, the first British lawmaker with roots in Bangladesh, was re-elected as the MP of Bethnal Green and Bow with a majority of 24,317 votes.
Courtesy: BBC
Rushanara was elected MP in 2010 and resigned from the Labour frontbench to abstain from the House motion for permitting military action in Iraq in September 2014.
Labour party candidate Dr Rupa Huq got 22,002 votes while her rival Conservative Party backed Angie Bray obtained 21,728 votes.
Courtesy: BBC
Dr Rupa Huq was out to reclaim London's Ealing Central and Acton seat from the Conservatives.
The other Labour Party contenders were Anwar Babul Miah in the Welwyn Hatfield in Hertfordshire constituency, Marina Ahmad in Beckenham, Ali Akhlakul Islam in Luton and Amran Hussain in North-East Hampshire.
Prime Minister David Cameron's Conservative Party has nominated Mina Sabera Rahman for the Barking constituency.
For the first time in the history of Britain, 13 Bangladesh-origin candidates are vying for seats in the House of Commons through this election, already forecast to be the tightest race in memory.
Most of these candidates have been nominated by Ed Miliband's main opposition Labour Party.
Source: The Daily Star