They had fun while shooting for the movie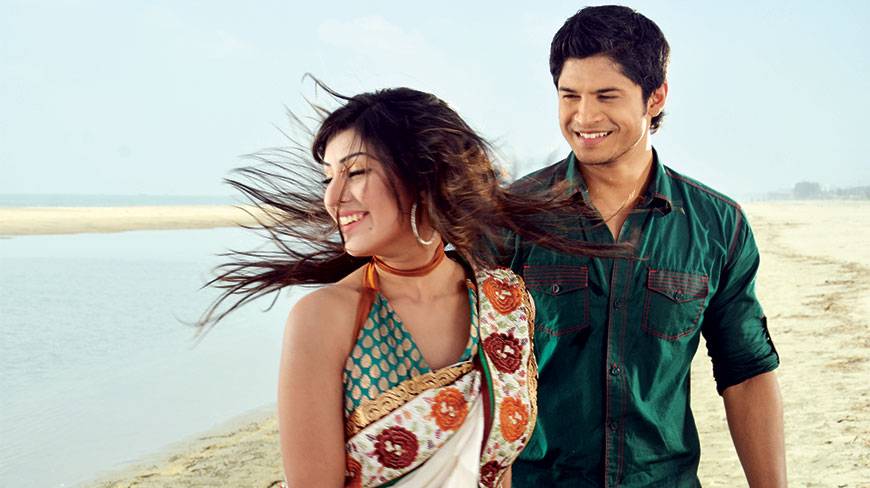 Lovebirds Shokh and Niloy will be seen romancing on the silver screen for the first time in the upcoming flick "Olpo Olpo Premer Golpo." Directed by Saniat Hossain, the film is all set to hit the cinemas on August 29.
According to Saniat, the film features Shokh and Niloy's passion for falling in love. The entire film presents many aspects of  their love life in a humourous way and it "has all the potentials to be a joy ride for the audience."
Shokh and Niloy both came to the showbiz as TVC models and later turned small screen pair and become the centre of attention as the media's repeatative speculation over their real life romance. However, the couple never announced their relationship loudly and when Dhka Tribune asked Niloy about how their chemistry helped to bring life to the screen, he just said: "We had fun while shooting for the movie."
But, the director said: "The on-screen and off-screen chemistry between Shokh and Niloy is the most beautiful part of the film. They look very groovy together; the audience would love to see them on the big screen."
About working in the film, Niloy further said: "I love to portray romantic character in films and this time I got something interesting and diffeent. I hope the film would bring something fresh to the audience."
Leading ramp model Tabassum Anila Hridi is also going to debut on big screen with the film. She plays a uptown girl who has returned from London to get settled in the city. Her friendship with Niloy leads her to become more possesive about him and eventually fall in love with the young and amtitious guy. Hence an interesting twist
of a love-triangle is awaiting for the viewers.
A merger is evident in the line of casting as the regular Bangla cinema actors like Misha Sawdagor and Kabila acted with Shampa Reza and Shahidul Alam Sachchu who are not regular in Bangla films but have passion for it.
Shoogar Productions is produced the film while Jaaz Multimedia is responsible for the distribution of the film.
Source: Dhaka Tribune