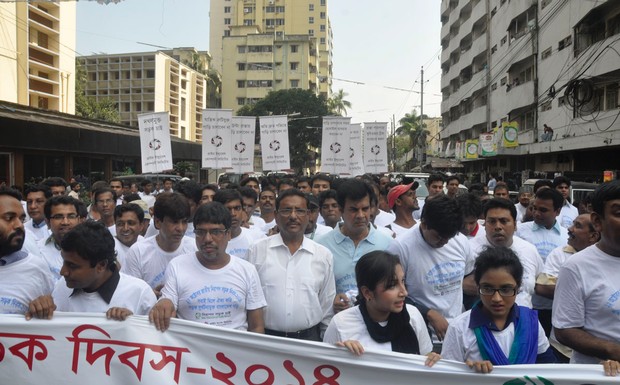 The road transport minister has blamed drivers of two buses for Monday's crash in Natore that killed 34 people.
Obaidul Quader maintains the road where the mishap took place had no issues.
The government is investigating the accident.
Addressing a rally in Dhaka on Wednesday, organised by 'Nirapad Sarak Chai' –movement for safe roads – Quader hoped the report would be available by Thursday.
"The road on which the accident took place was in good shape. I believe reckless driving had caused the accident," he said, quickly adding: "It's my personal assumption."
A Rajshahi-bound bus of Keya Paribahan collided head-on with an Othoi Paribahan bus going to Gurudaspur.
Locals and victims had blamed the Keya Paribahan bus which had rammed the other bus while overtaking a truck.
The Keya Paribahan driver, who survived the accident, is on the run.
Minister Quader said the Natore accident was a 'warning' for other drivers.
"[We] have to remember that the lives of the drivers are not safe either," he said.
He was emotionally overcome while describing his visit to the spot.
"I could neither eat nor sleep at night after seeing so many bodies," Quader recalled.
He praised the local people for swiftly coming to the rescue and remaining calm.
"They (locals) made a difference. No vehicles were damaged and the road was not blocked," he said.
The minister said a Tk 1.65 billion project had been undertaken to reduce risks at 144 'black spots' on highways.
He said the government would interact with the young generations to raise awareness.
"The Natore accident has shaken the conscience of the nation. Road mishaps are a national concern.
"The value of lives cannot be paid in money," Quader said.
Source: Bd news24