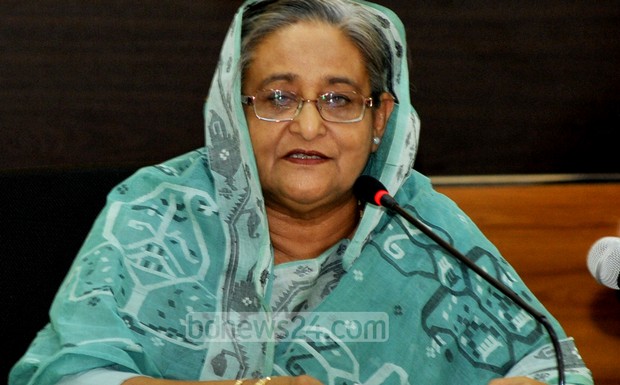 Prime Minister Sheikh Hasina thinks the parliament should have the power to impeach Supreme Court judges because it represents the people.
"Military rulers formed the Supreme Judicial Council. This has become a matter of discussion because it does not go with democracy," she said on Saturday while responding to a query at Ganabhaban during her media briefing on her recent UK visit.

"Its only reasonable (to give Parliament the power to impeach judges)," she added.

Though in Bangladesh's first constitution, Parliament retained the power to impeach top judges, military ruler Ziaur Rahman later cancelled it and gave the power to a Supreme Judicial Council.

In the 1972 constitution, the article 96 allowed Parliament to impeach Supreme Court judges for proven offences or incapability by the vote of a two-thirds majority.

The issue of reviving this authority came into focus after the Awami League took office in the last term.

"Ziaur Rahman came to power through military coup and formed the Supreme Judicial Council. Later, we amended the constitution," she said.

"The issue had come up then. And now, many including the Law Commission and Human Rights Commission have given their opinions."

As there is a democratic rule in the country, many are talking about reviving the 1972 constitution article, she said.

"People are the owner of the state. The power should be on the hands of their representatives."

In 2012, some MPs called for the removal of a High Court judge after a series of events around the remark of the then speaker and current President Abdul Hamid.

The matter was also discussed when the 15th Amendment to the Constitution was underway, although the article was not restored.

The Law Commission in June submitted a report containing some recommendations to the Parliamentary Standing Committee on Law, Justice and Parliamentary Affairs Ministry.

On July 17, the standing committee's Chairman Suranjit Sengupta said that Parliament is sovereign and must have the power to impeach the Supreme Court judges.

"Parliament cannot be sovereign if it cannot hold all branches (of the State) to account. We must amend article 96 to ensure the sovereignty of Parliament," he had said.
Source: Bd news24