Bangladesh is paying homage to the memories of the valiant sons of the soil who made supreme sacrifices to establish rights of the mother tongue in 1952.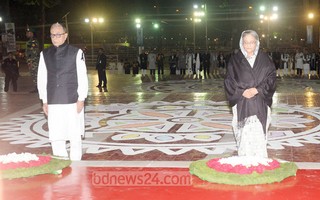 People from all echelons of society started pouring at the Shaheed Minars across the country late on Saturday.
The observance started with President Md Abdul Hamid and Prime minister Sheikh Hasina placing wreaths at the Central Shaheed Minar in the first hours on Sunday.
After them, Speaker Shirin Sharmin Chaudhury, ministers, Leader of the Opposition Raushon Ershad, chiefs of the three forces, heads of law-enforcing agencies, and leaders of political parties paid tribute to the martyrs before the Shaheed Minar was opened to the public.
Soon it was deluged with flowers and many more were waiting their turn.
The immortal line — "'Amar Bhaier Rokte Rangano Ekushey February, Ami Ki Bhulite Pari' (Can I forget the twenty-first of February/ incarnadined by the blood of my brother?) — was on their lips.
This day in 1952, police shot dead several persons protesting against the then Pakistan government's decision to impose Urdu as the sole state language on the people of erstwhile East Pakistan.
Salam, Rafique, Shafique, Jabbar and Barkat embraced martyrdom in police firing as they took to street to intensify the campaign to establish Bangla as the state language of the then Pakistan, sowing the seeds of subsequent movements for the country's independence.
Eventually, Bangladesh snatched independence from Pakistan in 1971.
In a message, the president said, "We feel proud that the spirit of Amar Ekushey is now inspiring the people of different languages around the globe to protect and preserve their own languages and cultures transcending the boundary of our country."
The UNESCO in 1999 had declared February 21 as International Mother Language Day.
A programme will be held at the UN headquarters in New York marking the day.
Bangladesh's Permanent Mission to the UN, too, will organise programmes.
The day is a national holiday. The national flag will fly at half-mast in honour of the martyrs.
The prime minister, in another message, said "Let us arouse ourselves with the spirit of the immortal Ekushey, sinking all petty differences. Let us vow to protect the dignity of our constitution and democratic journey. Let us take a fresh vow to work together to uplift the common people."
"We have taken an initiative to make Bangla, spoken by 25 crore people of the world, as one of the official languages of the UN. I have already placed the demand before the UNGA. We established International Mother Language Institute to preserve the languages of the world and carry out research on those," she added.
BNP chief Khaleda in her message called for 'restoration of democracy imbibing the spirit of Ekush'.
Source: bdnews24