The first meeting of the city unit will be held tomorrow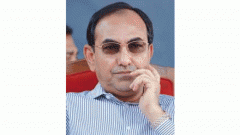 Finally, the newly-formed Dhaka city convening committee of the BNP has decided to start its activities formally from tomorrow, though Convener of the unit Mirza Abbas had expressed his grievances over the committee.
Party insiders say the committee members will sit at the city office tomorrow and place wreaths at the grave of party founder Ziaur Rahman on July 25.
Abbas had expressed his strong reservation about the inclusion of Sadeque Hossain Khoka, Abdus Salam and their followers in the new committee.
The first meeting would be an introductory one, said a leader of the unit. Mirza Abbas will also be present while placing wreaths at Zia's grave, he told the Dhaka Tribune seeking anonymity.
Senior leaders of the party including Goyeshwar Chandra Roy, Abdul Awal Mintoo and Barkatullah Bulu went to the house of Abbas on Monday afternoon to convince him to start the activities.
"Abbas was disappointed with the committee. Senior leaders of the party persuaded him again and again saying that if the committee does not start its activities soon, then the party politics will be under threat and the followers demoralised," a senior leader told the Dhaka Tribune asking not to be named.
After long arguments, Abbas agreed to start working for the unit, he added.
Following the announcement of the committee on Friday, Abbas did not meet with the party leaders and activists, and also did not talk to the media.
Another BNP leader said Abbas had been desperate not to start working before discussing the issues with party Chairperson Khaleda Zia.
Abbas reportedly said the party chief had been wrongly convinced and that is why such a committee was announced. He blamed some senior leaders and some officials of the chairperson for this.
Until Thursday evening, everyone knew that it was going to be a 31-member committee and would not have a member secretary post. However, when the committee was announced officially, it had 52 members while the member secretary post was intact.
Source: Dhaka Tribune