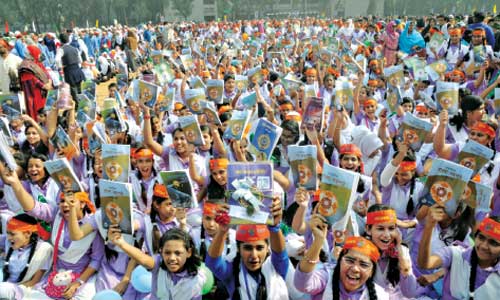 The government observed textbook festivals in the capital on Friday through distributing free of cost books to primary and secondary school students although as much as 20 to 50 per cent primary books are yet to reach at least eight outlying districts.
Education Minister Nurul Islam Nahid distributed textbooks among students of several secondary level students at Government Laboratory High School while primary and mass education minister Mostafizur Rahman gave away books to primary students at National Bangla Government Primary School.
Prime minister Sheikh Hasina on Thursday inaugurated the festival.
A total of 672 students of primary and secondary schools located at Dashearchara vin Kurigram, a former Indian enclave, got free textbooks for the first time.
The government is distributing around 33.37 crore textbooks to distribute among 4.44 crore students of primary and secondary schools, madrassahs and technical institutions.
According to education officials, many textbooks are yet to reach the outlying districts.
Officials said that about 50 per cent primary level books out of a requisitioned 5.02 lakh are yet to reach Bandarban, 24 per cent out of 6.80 lakh books are yet to reach Khagrachari, 22 per cent out of 10.72 lakh books are yet to reach Patuakhali.
Jamalpur district primary education officer Abdul Alim said they did not distribute Bangladesh and Global Studies, Science and Religion textbooks of class IV and V.
Directorate of Primary Education Barisal division officials said 27 per cent of 16.50 lakh primary textbook were yet to reach Barisal.
About 48 per cent primary school books out of 6.63 lakh books in Pirojpur, 42 per cent out of 3.85 lakh in Jhalakathi, 23 per cent out of 6.30 lakh textbooks in Barguna were yet to arrive.
Directorate of Primary Education Barisal division deputy director Mahbub E Elahi said about 27 per cent of 59.52 lakh books did not reach the districts under the division till December 30.
He said that arrival of books was delayed due to communication problems and municipal elections. He added the rest of the books would reach by next week.
DPE director general Mohammad Alamgir said about 90 per cent textbooks had reached upazilas till December 31.
NCTB chairman Narayan Chandra Paul and member (text book) Mia Inamul Haque Siddiki did not receive their phone Friday evening. Narayan however on December 29, while talking to New Age, had said all textbooks of primary and secondary level had reached the districts.
In 2010, the government began distributing free textbooks among students of secondary schools. Free distribution
of books among the primary school students began in 1981.
Source: New Age