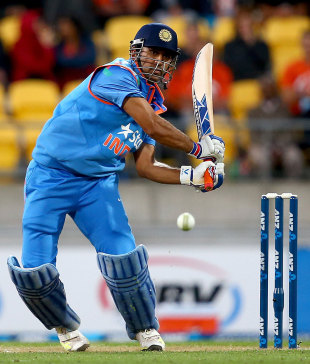 India will tour Bangladesh for a three-ODI series during the window between the IPL final on June 1 and their departure for England on June 22. The three ODIs will be played in Dhaka on June 15, 17 and 19.
ESPNcricinfo understands India will have a new captain in all likelihood, with MS Dhoni and Virat Kohli unavailable for the tour. Dhoni has planned a family vacation and the BCCI is inclined towards resting the captain for a rigorous season starting with the England tour and culminating with the 2015 World Cup.
Similarly, Kohli, who led India during the Asia Cup in March in the absence of the injured Dhoni, has also indicated to the BCCI hierarchy that he would prefer a break going into the hectic season. The other three players who have led India in the recent past are Virender Sehwag, Gautam Gambhir and Suresh Raina. None of them were part of the Asia Cup campaign. As a result, the selectors could be forced to choose a new captain, with Rohit Sharma and R Ashwin the main contenders to lead.
India's tour to Bangladesh was in principle agreed upon between the boards at the time of FTP negotiations in February, and the dotted line was signed on the sidelines of last month's ICC executive board meeting in April.
ESPNcricinfo had learned last week that the BCB was waiting to hear from the BCCI and also waiting to confirm the six-year TV broadcaster's deal, for which they had asked for bids from April 24. The main selling point for the BCB was the two India tours to Bangladesh during this period, including the series in June. The open bid to determine the broadcaster is on May 16.
Source: CricInfo