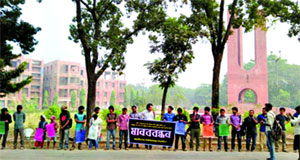 Internet based social media facebook and other services temporarily closed by the government , would be made accessible 'very soon', State Minister of ICT Zunaid Ahmed Palak assured.
Talking to media on Thursday, Palak said the government has contacted the Facebook authorities and hope that the Facebook will be unblocked very soon.
facebook, facebook messenger, Viber, WhatsApp and several other messaging and calling apps were rendered inaccessible by the Bangladesh Telecom authorities t since Nov 18 for national security considerations.
State Minister for Telecommunications Tarana Halim earlier told the media that Asia Pacific region policy advisor of facebook will arrive Dhaka either on Dec 6 or 7 for discussions.
Tarana also had made it clear that the discussion has nothing to do with unblocking the social media site. "That will happen only after getting clearance from the home ministry.
Meanwhile, an online petition already signed by over five thousand people is calling on Facebook CEO Mark Zuckerberg not to allow his company to share users' data with the Bangladesh government.
The petition on Change.Org claimed that the government decision to block Facebook amounted to stifling freedom of speech in the country.
The authors of the petition, Human Rights Activists of Bangladesh, alleged that the Awami League government intended to collect personal information about users who are opposing the authority . It may lead to arrest and make opposition activists and their family members victims of torture or harassment.
Petitioners shared their reasons for signing the document in the comments section, with many expressing concern that basic freedoms were under fire. One petitioner wrote: "Our government … acts like an insecure girlfriend who thinks her boyfriend is cheating on her."
Extolling the merits of social media, the petition said: "Thanks to Facebook, we were at least able to know the facts, speak our minds, and inform others."
Around 18 million Facebook users in Bangladesh have been without the services of the social networking site since the Supreme Court rejected review petitions by war criminals SQ Chowdhury and Ali Ahsan Mohammad Mujahid on November 18.
Source: Weekly Holiday