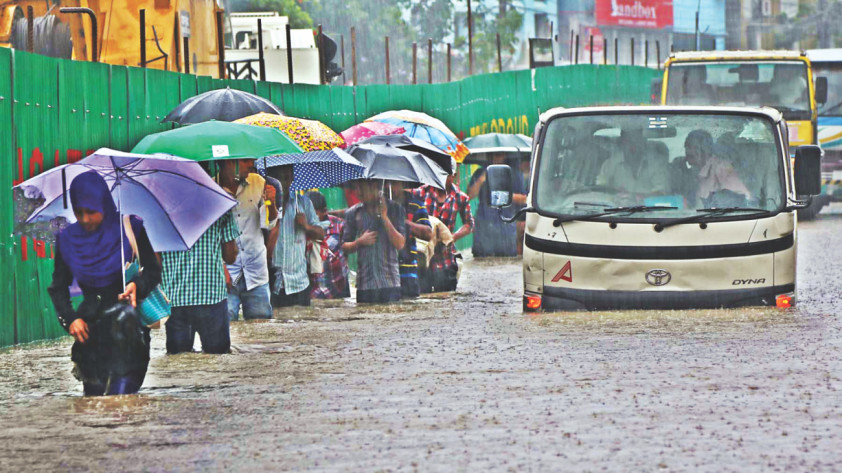 Torrential rain across the country yesterday crippled city life, submerging streets and causing daylong gridlocks in Chittagong and Dhaka.
Port city dwellers had to endure the worst of yesterday's downpour.
Public roads in many areas in the port city went under knee-deep and waist-deep water since early morning.
People of the capital were not much better off as incessant rain throughout the day threw the traffic system into chaos on the last working day of the week, when the situation is worse than that of other days.
Heavy showers started around 5:00am and continued for the next three hours in Chittagong. Roadside drains spilled over with rainwater and abominable filth making the journey to work miserable for many.
Students off to schools and people going to work had to wade through the horrible water on the streets. Many vehicles broke down causing traffic jams. There was a dearth of transport as well.
The downpour caused waterlogging in low-lying areas, including Bakalia, Chawkbazar, Shulak Bahar, Agrabad, Halishahar, Sholoshahar, Bibirhat, Bahaddarhat, Wasa intersection, Mohammadpur, Dewan Bazar and KB Aman Ali Road in the port city.
Water entered shops, houses and markets damaging valuables. Many residents and shopkeepers were forced to scoop out water with whatever utensils they could find.
Rukhsana Akhter, who endured waterlogged streets as she walked from her home on KB Aman Ali Road to Chawk Bazar, said, "I waited half an hour for a rickshaw but finally gave up and started walking."
Banker Tamanna Hossain was seen waiting for an auto-rickshaw at Rahattar Pool intersection to go to work at Agrabad. "I am already late for work … I have been waiting for an hour to get transport," she said.
Many street vendors had to keep their businesses closed despite it being very close to Eid, a time when they witness high sales. "I set up my shop on the footpath at Rahattar Pool area every day at 9:00am. But I could not open my business today," said Nasir Hossain, a fruit vendor.
Despite repeated attempts, neither the newly elected mayor of Chittagong City Corporation (CCC) AJM Nasir Uddin nor the Chief Executive Officer of CCC Kazi Mohamamd Shafiul Alam could be contacted for their comments.
Dhaka dwellers had to struggle to get to their designations yesterday, as traffic went haywire with day-long drizzles and heavy rain.
Hundreds of people absolutely drenched were seen waiting for transport to work at Topkhana Road, Karwan Bazar, and Shahbagh, Sonargaon, and Farmgate intersections.
Holding their babies, two women cross Sonargaon intersection in the capital during the downpour yesterday. The tiny polythene bags wrapped around the babies' heads were of little use for keeping them dry. Photo: Anisur Rahman
Standing at Sonargaon intersection Fahmida Yasmin, a salesperson of an apparel shop, said, "I could not get on a bus to Mirpur in one hour, as vehicles are few and far between and overcrowded."
Harun-or-Rashid, a resident of Gulshan, said, "I had to struggle for two hours to reach Gulshan from Hatirpool, as the traffic was crawling."
Rasheduzzaman, meteorologist and Duty Forecasting Officer at the Dhaka Met Office, said the heavy downpour was due to an active monsoon triggered by a low pressure that moved in from the Bay.
He said the monsoon had affected Chittagong, Barisal, Khulna, Dhaka and Rajshahi regions badly.
The rain today would probably be like yesterday's, and it would start to ease off tomorrow, he said.
Between 6:00am and 3:00pm yesterday, Chittagong experienced 65mm of rainfall, Mongla 90mm, Rangamati 50mm, Jessore 34mm, Dhaka 17mm.
Srimangal got 59mm of rainfall between 6:00am Wednesday and 6:00am yesterday.
Leading urban planners have had warned the government decision-makers time and again that waterlogging with even normal monsoon rain was the inevitable consequence of unplanned and unauthorised urbanisation ruining flood flow zones, rainwater retention areas, canals and wetlands.
According to transport engineers, roads submerged in rainwater force motorists, fearful of mishaps, to move to the narrower visible lanes of streets causing slow traffic movement. Pedestrians having to move on to the road from the pavements and vehicles breaking down in the water worsen the situation.
Source: The Daily Star