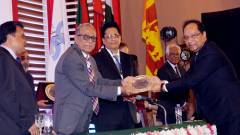 A total of 46 organisations from SAARC countries, including eight from Bangladesh, received prestigious South Asian Federation of Accountants (SAFA) award for their best presented annual reports of 2015.
In addition, 41 institutions and entities also received Certificates of Merit at a programme, organised by the Institute of Charted Accountants of Bangladesh (ICAB) at a city hotel in the capital on Friday.
Finance Minister AMA Muhith handed over the awards to the recipients under 13 different categories including banks, non-banking financial institutions, insurance companies, manufacturing, financial services, ICT and non-government organisations.
Sri Lanka secured first position while Bangladesh and Pakistan became 1st and 2nd runners-up respectively in consideration of the number of awards, certificates of merit and positions.
A total of eight Bangladeshi companies received 10 awards.
In his address as the chief guest, Finance Minister AMA Muhith said Bangladesh made tremendous development in its business and financial sectors improving standard, transparency and accountability which are now worldwide acceptable.
Muhith termed Bangladesh a highly populated country but with tremendous opportunity to develop business and economy competing with other developed countries.
"Transparency and accountability are needed in business and economy to flourish across the world, and healthy competition is also necessary to attain sustainable development," the minister said, adding that financial and business companies bear responsibilities to contribution to the society and its people.
As the special guest, Bangladesh Bank Governor Fazle Kabir said investments from home and abroad are required to fulfill the goal announced by Prime Minister Sheikh Hasina to turn Bangladesh into a middle-income country by 2021.
He also said private sector, corporate sector and industries should come ahead to take the challenge zand meet the goal.
ICAB president Adeeb Hossain Khan and SAFA present ASM Nayem addressed the function, which was attended by presidents of different CA institutes and heads of different organisations in SAARC countries, delegates from IFAC, CAPA, and ICAB council members.
SAFA is an apex body of SAARC formed in 1984. It is a forum of professional accountancy bodies in the SAARC region to improve transparency, accountability and governance.
source: dhaka tribune