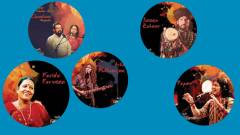 For the first time in the country, an extensive international folk music festival featuring more than hundreds of folk artists from around the world will start today at the Army Stadium at 4:30pm.
Orchestrating mind-blowing performances from globally renowned musicians every day, the extravaganza will surely quench the thirst of music lovers.
Here's a brief introduction of the artistes who will be performing on the opening day.
Farida Parveen
Farida Parveen, a Bangladeshi folk singer who specialises in Lalon songs and has helped its popularity in Bangladesh. She started her career with Nazrul Geeti. In 1973, she performed the patriotic song Ei Padma Ei Meghna and the Lalon song Shatyo Bol Shupothey Chol. Her other popular songs include Tomra Bhulei Gechho Mallikadir Naam and Nindar Kanta Jodi. In 2008, she won the Fukuoka Asian Culture Prize for Best Music in Japan. In 1987, she received Ekushey Padak and in 1993, she was given the National Film Award for Best Female Playback Singer.
Kiran Chandra Roy
Baul virtuoso Kiran Chandra Roy won the National Award in 1997 as the best playback singer and the BACHSAS Best Singer Award. He also won second place among 88 contestants in the International Folk Festival held in China. Kiran Chandra discovered his love for music at a very young age. He later took formal lessons with Khandakar Nurul Alam. Proficient in Raga-based music, Kiran Chandra won acclaim for his memorable renditions of Baul songs.
The Arko Mukhaerjee Collective
One of the most unique vocalists to have hit the global music scene, Arko's high tenor and a natural husk, is unique to sub-continental contemporary music. Formally trained in Indian classical music, Arko is equally versatile with Western and Indian folk songs, blues, soul and tribal music styles. He is also a popular playback singer having sung in several films, soaps and serials in Bengal and has been nominated for national music awards in India for some of his songs.
Arko will be playing with his collective featuring Fiddler's Green and Satyaki Banerjee.
Saieen Zahoor
Saieen Zahoor is a leading Sufi musician from Pakistan. He has spent most of his life singing in Sufi shrines, and didn't produce a record until 2006, when he was nominated for the BBC World Music awards based on word of mouth. He emerged as the "best BBC voice of the year 2006."
Papon and The East India Company
Angarag Mahanta, known by his nickname Papon, is an Indian singer, composer and record producer from Assam. In 2007, Papon formed an electronic folk-fusion band called Papon and The East India Company.
Their music and their songs have evolved from eastern India, from the lush green fields of Assam to be precise. And their music is awash with the native notes of their soil. Set-up in the backdrop of Assamese folk-lore and culture, Angaraag Mahanta and his band have been applauded by the masses. Their music has been said to possess the unique ability to impart peace to the soul, in a way that the soul echoes with the melody of timeless folk tunes of Assam. Angaraag Mahanta and his band have been credited for creating an amazing blend of contemporary music and folk.
Source: Dhaka Tribune