Cultural Correspondent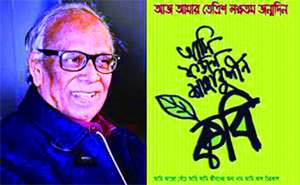 Eminent poet and journalist Fazal Shahabuddin passed away at his residence in the capital's Madhya Basabo on Sunday morning. He was 78.
He received two of the most prestigious literary awards in Bangladesh: the Bangla Academy Award in 1973 and the Ekushey Padak in 1988.
Shahabuddin died in February 2014, five days after his 78th birthday, from complications of old age.
He left behind his wife, two sons, a daughter and a host of relatives.
Family members said the poet, who had been suffering from old-age complications over the last few months, breathed his last around 10:30am Sunday.
He was buried at the Banani graveyard in the evening after three namaj-e-janazas at Basabo, Bangla Academy and the Jatiya Press Club.
Fazal Shahabuddin, a poet, novelist, story writer and translator, was born in Dhaka on February 4, 1936.
He received his bachelor degree from Jagannath College (now, Jagannath University) in 1962.
The poet who also worked in Bangladesh Postal Department started his career through writing poetry since his youth.
He worked in different newspapers, including Dainik Pakistan, Dainik Bangla, Bangladesh Observer and Shaptahik Bichitra.
His first book was published in 1965 and the last book Ekjon Kobi Ekaki was published in 2013.
Shahabuddin only dreamt of becoming a poet. Shahabuddin's first poem "Sandhya" was published in the Bangla daily Millat in 1953 but he rose to popularity following the publication of his first book of poems Trishnar Augnite Eka in 1965.
His contributions to Bengali literature got him the 'Bangla Academy Literature Award' in 1973 and the 'Ekushey Padak' in 1988.
His famous poems include 'Trishnar Agnite Eka', 'Akangkhita Asundar', 'Atotayee Surjasto'. He is also an author of a novel entitled 'Ekjan Anander Sharir'.
His other important poetic works include Okankhito Oshundar, Atotayee Suryasto, Ontorikkhe Oronyo, Aloheen Ondhokarheen, Amar Nirbachito Kobita, Artonad, Sonnetguchchho and Prithibi Amar Prithibi.
For his contribution to Bangla literature, Shahabuddin received the Bangla Academy Literature Award in 1973 and the Ekushey Padak in 1988.
The death of the legendary litterateur and journalist has grieved the country immensely. His colleagues and well-wishers mourned his death.
Terming him a poet of nature, Professor Shamsuzzaman Khan, director general of Bangla Academy, said Shahabuddin's works added a new feather to the crown of Bangla literature.
The demise of Fazal Shahabuddin, one of the most celebrated poets and journalists of the country, is an irreparable loss to the country's cultural arena.
Source: Weekly Holiday