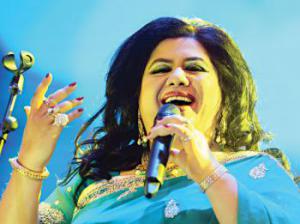 Her vibrant presence on the stage, her magical voice and her ever-youthful nature — all had the audience mesmerised.
Runa Laila, the iconic figure on the South Asia's music scene, on Friday celebrated her 50-year in melody with songs and recalling of memories.
Ferdausi Rahman, another renowned and versatile singer in Bangla music, said, "I have seen her singing since her childhood. She has a strong command over music. We all are proud of her."
The event was not limited to songs. Some dance moves were involved as well. Popular artistes including actress Anjana, and singers Khurshid Alam, Abida Sultana and Shakila Zafar swayed with the tracks — Pan Khaiya Thot Lal Korilam, Sadher Lau Banailo More Boiragi and Istitioner Railgarita Maipa Chole Ghorir Kata.
The audience at Bangabandhu International Conference Centre could not cease to shower the veteran singer with applause when she voiced her popular tracks including Dama Dam Mast Kalandar, Pardeshi Megh Re, Jokhon Thambe Kolahol, Ei Bristi Veja Raate, Allah Megh De Pani De, Bondhu Tin Din and Jokhon Ami Thakbo Nako.
"It was a long journey of 50 years. This programme was arranged to celebrate the milestone I have been able to achieve in my career with support and love of others," said Runa Laila.
She took a trip down to the memory lane with tears.
She reminisced about her parents and sister Dina Laila, saying that she could not have been "Runa Laila", had they not been with her.
The event titled 'Golden Jubilee Celebration of Runa Laila' was organised by Entourage Entertainment and anchored by Naveed Mahbub. Artistes from the neighboring India, Bollywood actor Fawad Khan and popular Indian playback singer KK performed.
Among others, liberation war affairs minister AKM Mozammel Haque and Runa Laila's husband actor Alamgir were present.
Source: Prothom-Alo