Cultural Correspondent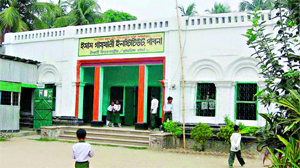 The ancestral house of the late legendary actor Suchitra Sen in Pabna will be converted to a memorial museum after immediately reclaiming it from the illegal occupation.
This was disclosed by the cultural affairs minister Asaduzzaman Noor in a condolence programme organised at Bangladesh Shilpakala Academy on Friday.
The minister further said that he would request Suchitra Sen's family members in India to donate token items used by the actor to be displayed in the museum.
Bangladesh Shilpakala Academy organised the programme at the Music and Dance Centre of the academy to pay tribute to the recently demised legendary actor Suchitra Sen, who died on January 17 in Kolkata, India.
Cultural affairs minister Asaduzzaman Noor was present at the programme as the chief guest. Cultural affairs secretary Ranjit Kumar Biswas, general secretary of Pabna based Suchitra Sen Smriti Sangrakkhan Parishad Ramdulal Bhowmick and filmmaker Mashiuddin Shaker delivered speeches at the programme, which was presided over by the director general of Bangladesh Shilpakala Academy Liaquat Ali Lucky.
Bhowmick at the programme explained how Suchitra's ancestral house, where the actor passed her childhood before migrating to India after the partition in 1947, had been occupied by Imam Gazzali Institute,
'Suchitra Sen's house in Pabna was declared "enemy property" in 1965. In 1981, the government leased the house for six years to Imam Gazzali Institute. But, the house is still in the possession of the institute,' Ramdulal Bhowmick said.
'We have been demanding for the recovery of the house and making it an archive since 2008,' Bhowmick added.
Announcing the cultural affairs ministry's plan to make a museum in the house, the minister said, 'While visiting Kolkata in February, I will request Suchitra's family members to donate a few things to the museum that we are planning to install. We will also collect DVDs of her films,' Noor said.
'The prime minister is also concerned on the issue' he added.
Director general of Bangladesh Shilpakala Academy Liaquat Ali Lucky said that the academy would organise film festivals featuring Sen's films in all the 64 districts and would take initiatives to publish a memorial book and to make a documentary on the actor, who is very popular in Bangladesh.
Source: Weekly Holiday