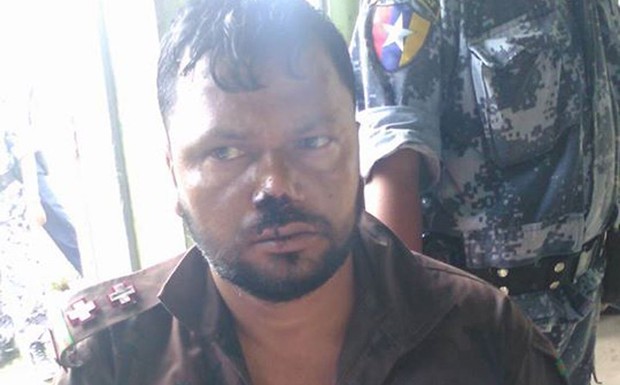 Even after six days of his abduction, Myanmar has not yet returned Bangladesh Border Guard (BGB) member Nayek Abdur Razzak paying no heed to Bangladesh's repeated requests.
Country's people and opposition political parties, meanwhile, have expressed surprise over Myanmar's excesses and also criticized the government here for its failure to bring Razzak back.
Bangladesh is now highly 'disappointed' at Myanmar's attitude and considered the incident 'unfriendly' towards a neighbouring country and a clear departure from diplomatic norms.
State minister for foreign affairs M Shahriar Alam on Tuesday urged people to keep faith in the government and assured them of having abducted BGB member Nayek Abdur Razzak back home from Myanmar.
He said there is the Vienna Convention regarding relations between two countries which should be abided by all countries.
"There is also a system to remind it (what is mentioned in Vienna Convention) if these are not abided by," he wrote on his official Facebook page.
The state minister also said they are aware of dignity of Bangladesh's citizens, officers and members of forces. "Right decision, strategy and patience are needed to resolve such issues."
He also said a citizen may not want to accept it. "But I will tell them to keep faith in us."
Shahriar Alam also said Nayek Razzak will soon be brought back and efforts are on in this regard.
Earlier in the day, state minister for home Asaduzzaman Khan said Myanmar agreed to return abducted BGB member Nayek Abdur Razzak without any condition.
"Last night I came to know through TV channels that they have put a condition to Razzak's return. Earlier, on various occasions, they also demanded that 556 men be taken back by Bangladesh. We'll bring them back on confirmation that they're Bangladeshis," he said.
Meanwhile, a foreign ministry source said the BGB and the BGP are now engaged in the issue to find an early solution.
The issue was even raised in the ongoing session of Parliament and the cloud over his release was deepened further when there was news in all forms of media on Monday that Myanmar tagged condition of taking back 550 migrants from Myanmar.
The 550 people are among the 770 migrants rescued by Myanmar navy on May 29. Dhaka has been trying to verify whether any of them is a Bangladeshi citizen.
However, DG BGB Maj Gen Aziz Ahmed (now in China) sent a message for media clearing the matter.
"I had talks with our defence attache in Myanmar Brigadier General Mahbub around 19:00 PM today (Monday), who informed me that he had a meeting with Myanmar home ministry. Myanmar home ministry has informed that BGB Nayek Razzak will be returned honourably with his personal weapon, ammunition etc unconditional," the message reads.
By this time Razzak became the father of a boy on Sunday but he could not enjoy the joy as he was languishing in captivity far from home.
Earlier on Saturday, Bangladesh ambassador in Myanmar Mohammad Sufiur Rahman requested Myanmar again to send BGB Nayek Abdur Razzak back.
Sufiur met Myanmar the new foreign secretary and conveyed Bangladesh's request to send Razzak back home soon.
Bangladesh also a lodged a strong protest with Myanmar for publishing Razzak's photos showing him handcuffed.
Bangladesh foreign ministry on Thursday summoned Myanmar ambassador in Dhaka Myo Myint Than and asked him to convey his government its request to immediately return Razzak, abducted on 17 June.
Additional foreign secretary Mizanur Rahman handed over a note verbal to ambassador Myo Myint Than asking him to convey his government to send back BGB Nayek immediately.
Myanmar's Border Guard Police (BGP) opened fire on a BGB patrol boat in the Naf River which was later described by Bangladesh as 'misunderstanding'.
Another BGB man, Biplob Kumar, received bullet injuries when the BGP opened fire on the BGB petrol boat in the Naf River in Cox's Bazar.
While briefing the diplomat, Bangladesh described the incident as the most unfortunate and totally unwarranted one, and said such unprovoked firing by BGP is not acceptable in any way.
On 5 June, Myo Myint Than was also summoned over a Rakhine state minister's comment at a Naypyidaw diplomatic briefing on Bangladeshi illegal migration issue.
Earlier on 28 May 2014, the Myanmar border guards shot and killed BGB Nayek M Mizanur Rahman at Naikhanchori on the Bangladesh Myanmar border without any provocation.
Source: Prothom Alo