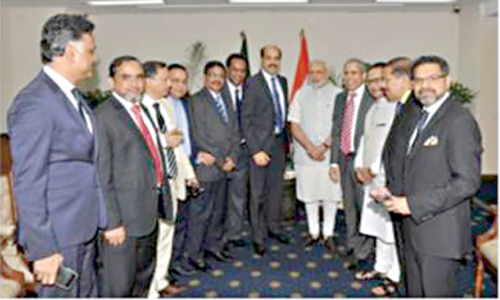 A business delegation on Sunday requested visiting Indian prime minister Narendra Modi to allocate 50 acres of land in India for Bangladesh garment manufacturers to set up warehouse and distribution centre in India.
The Bangladesh Garment Manufacturers and Exporters Association president Atiqul Islam made the request when a business delegation led by the Federation of Bangladesh Chambers and Commerce and Industry president Abdul Matlub Ahmad paid a courtesy call on Narendra Modi at Sonargaon Hotel in the city.
The BGMEA president also expressed interest to Modi in setting up 1,000 retail shops across India for reducing the prevailing trade deficit between the two countries.
Atiqul demanded for withdrawal of countervailing duty imposed on the import of readymade garments from Bangladesh.
Following the 10 minutes call on, Matlub Ahmed told journalists that BGMEA requested for the land to establish a company for retailing garments in the markets across India.
BGMEA in a statement said that the leaders told Modi that they would establish the company at a cost of $25 million in land was allocated in India.
Matlub also said that Modi responded positively to the proposal for taking necessary initiatives to implement the agreements, signed during his visit, to boost bilateral trade, business and investment between Bangladesh and India.
'We hope Modi's visit will open a new horizon in the Bangladesh-India relationship, especially in the areas of trade, business and investment,' Matlub said.
Matlub, who has a strong trade and business relations with India, said that they also proposed establishing a Joint Working Group involving private sectors of the two countries to help implement the agreements that were signed to narrow the trade gap between Delhi and Dhaka.
During the call on, President of Chittagong Chamber of Commerce and Industry Mahbubul Alam urged the Indian Prime Minister for taking an initiative to build a deep-sea port in Bangladesh coastal area near the port city of Chittagong.
The FBCCI president said that Modi responded to the proposal with a smile.
Source: New Age