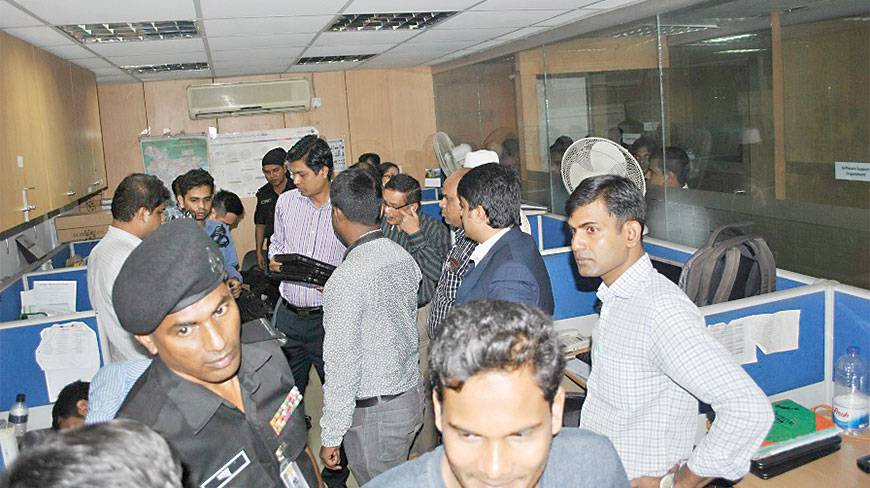 The law enforcement agencies in a recent drive have recovered 69 laptops installed with pirated software of Microsoft from Flora Telecom and nabbed two persons in this connection.
Intellectual Property Rights (IPR) Task Force and Copyright officials discovered the pirated items during the raid against the reputed retail outlet located in Gulshan 1 area.
The company is suspected of installation, supply and sale of pirated and illegal computer software.
The raid was pursuant to an investigation on a series of retail outlets for over a month by the IPR Task Force and the law enforcement agencies.
Flora employees openly admitted to RAB that they were dealing with pirated software.
Over the past years, the Copyright Office published a series of newspaper advertisements to create awareness about the legal implications of selling pirated goods.
Unfortunately, retailers ignored the government efforts to protect copyright in Bangladesh.
Md Manzurur Rahman, convener of the IPR Task Force, said there have been numerous efforts by the government to warn and educate retailers, but to no avail.
"We are now embarking on action against the entities selling or dealing in pirated and unlicenced software, and want to remind companies that their pirated software business is infringement of copyright law."
"Apart from the fact that piracy is illegal and impacts Bangladesh's ability to attract foreign direct investment, computer users are also put at risk when pirated software are sold to them," he said.
Pirated software are known to contain dangerous malware, some of which allow hackers to steal personal information from computers.
Barrister ABM Hamidul Mishbah, founder of Bangladesh Copyright & IP Forum, a non-profit organisation dedicated to promote IPR protection and enforcement within Bangladesh, commented that the anti-piracy action is more significant for being the first software enforcement action in the country.
"This clearly signals that Bangladesh is now ready to demonstrate to the world that we are a country that respects intellectual property and enforces the law to ensure and protect innovation, creativity and ideas in this country."
FBI and Chinese Seize $500 Million of Counterfeit Software
A multi-year investigation by Chinese police investigators and the US Federal Bureau of Investigation led to the dismantling of a piracy ring responsible for pirating and distributing up to $2 billion of software.
The two-year investigation led to the demise of two criminal organisations – located in Shanghai and Shenzhen – and included up to 25 arrests according to officials from both nations.
FBI said a joint effort with the Chinese authorities had led to the seizing of more than $500 million worth of counterfeit Microsoft and Symantec software being made in China and distributed worldwide.
The arrests, according to industry executives, represented the most significant crackdown on software piracy.
In the last couple of weeks, the operation led to the seizing by the Chinese government of 290,000 counterfeit discs and certificates of authenticity. FBI said Chinese officials had seized more than 47,000 counterfeit Microsoft discs.
Contacted, Microsoft Country Manager to Bangladesh, Sonia Bashir Kabir, said: "We applaud the Bangladesh Government's commitment to promoting intellectual property rights."
"This is a major milestone in Bangladesh's efforts to protect intellectual property and we encourage the government and police to continue to enforce intellectual property laws as this will only result in greater investor confidence and generate tax revenue and strengthen the overall infrastructure of the country, including cyber security," she said.
The piracy trend is getting higher in Bangladesh despite a large-scale price reduction and big investment in the country, added Sonia.
The Bangladesh Copyright Act 2000 is very comprehensive with regard to infringement of rights in computer programmes or software.
Any person who infringes the copyright in computer programme, publishes, sells or distributes the same in more than one copy, shall be punished with imprisonment for a term, not extending four years, or with fine which may extend to Tk400,000 lakh.
Uttam Kumar Paul, general secretary of Bangladesh Association of Software and Information Services (BASIS), held socio-economic factor responsible for the act of piracy.
He suggested affordable price to rein in piracy.
Uttam claimed that the piracy is not committed in Bangladesh, rather it takes place elsewhere in the world.
Source: Dhaka Tribune