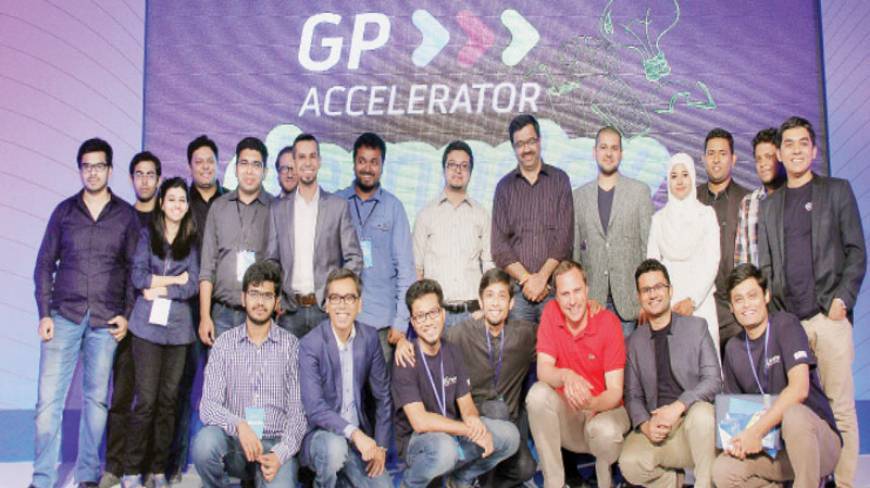 After four months with the GP Accelerator program, five startups got the opportunity to present their businesses in front of more than 100 attendees including investors and professionals on Demo Day on May 31 at GPHOUSE.
Rajeev Sethi, CEO of Grameenphone launched the event by reiterating the journey of the Grameenphone Accelerator program. Before the speeches of an introductory session titled "Startup Bazaar" was organised. During that session, the attendees were able to meet and chat with the five startups from the GP Accelerator team.
Kazi Mahboob Hassan, head of transformation said, "Demo day is a showcase of the exciting startups that has now gone through four months of rigorous curricula and experienced mentorship in a highly competitive environment. It is a program, meant to keep energy high, investors intrigued, and to build towards an unbelievable startup eco system in Bangladesh that sustains itself. If successful, these companies have the potential to change the way things work around us. We celebrate not just the success part of their cycle but also the inevitable downturns. Today Grameenphone has reached another milestone to clearly demonstrate its commitment with the vision of "empowering societies.''
In October 2015, Grameenphone partnered with SD ASIA to launch the "GP Accelerator" in search for five talented tech startups in Bangladesh. After a rigorous process of reading through hundreds of startup applications, face-to-face interviews, and demo presentations, the GP Accelerator team unveiled the top five startups to participate in the announcement program, on February 7 at GP House.
The top five startups (Ennovision, Sheba, Repto, Kandy, and Share) received a seed funding of more than BDT. 10 lakh each, and got the opportunity to work inside GPHouse – with full logistical support and the teams were also mentored by SD Asia's panel of start-up ecosystem experts.
Samad Miraly, co-founder of SD Asia expressed his excitement about the Demo Day. "Demo day is about the showcasing of progress. I think the teams are best placed to talk about how much improvement they have seen in last four months. In case they are being humble, I can say that I am truly impressed by the level of commitment dedication, persistence, and leadership they have shown," he said.
Grameenphone provided business related full logistics support for the top starters at the office space of GPHOUSE.
Faisal Kabir, project head of GP Accelerator, said, "We are very happy that the first batch of the GP Accelerator program has graduated. While joining the program Demo Day was the end goal for the startups,  we believe each startup has put more than 100% to come up to where are they today. Partnership our partnership with SD Asia has helped ensure that the startups are on track and being guided to scale up faster. We had a lot of new learning and unplanned scenario management during the last four months. Hopefully, the lessons learnt will be helpful in supporting the business development of GP Accelerator second batch better than before."
SD ASIA arranged several mentorship sessions, pitching seasons for the Top five. Every week the five startups from the Grameenphone Accelerator attended sessions on crucial business topics. Relevant experts and mentors were invited to be the guest speakers for these learning sessions.
Mustafizur Rahman Khan, CEO and founder of SD Asia, sees the demo Demo Day as an opportunity for the startups. "SD ASIA is very fortunate to have Grameenphone as a partner in starting the accelerator program. We believe the program has not only help the startups to become better but also help GP to understand the potential of data-driven companies in Bangladesh. With the current program finishing, we look forward to welcoming next batch in August".
GP Accelerator Demo Day was an event where Bangladeshi startups found exposure with investors, both local and international. Investors, entrepreneurs, and social media specialists from over the world attended the event and brought the Bangladesh startup ecosystem to their attention.
SD ASIA is a content and event platform that connects local tech startup with investors. The company was founded in 2014 by venture builders Mustafizur Rahman Khan, Fayaz Taher and Samad Miraly. SD ASIA's main objective is to promote and encourage tech entrepreneurs who work to solve local or global problems. It has hosted tech-meet-ups, workshops, and large tech conferences to bring Bangladesh forward as a viable foreign investment destination. The company advocates founder-friendly startup policies, particularly with its latest project, the Grameenphone Accelerator (powered by SD ASIA).
Source: Dhaka Tribune