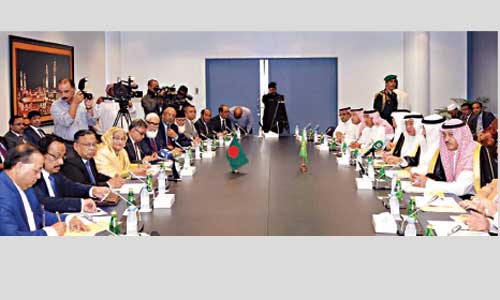 Prime minister Sheikh Hasina Sunday urged Saudi entrepreneurs to be 'partners' of Bangladesh in investment, trade, profit sharing and prosperity to bring a change in the life of millions of people.
'As we [Bangladesh] strive to materilaise the goals of "Vision 2021" and "Vision 2041", I request the leaders of Saudi investors and entrepreneurs to partner with us in investment, trade, profit sharing and prosperity,' she told an interaction with Jeddah Chamber of Commerce and Industry (JCCI) leaders.
Sheikh Hasina said: 'we have already graduated to a lower middle income country . . . together we can bring a change in the life of millions of people.'
Briefing the newsmen after the meeting prime minister's press Secretary Ihsanul Karim said she particularly welcomed Saudi investments in the country's emerging sectors like shipbuilding, textiles, leather, jute, ceramics, petrochemicals and agro-processing and pharmaceuticals.
The premier, he said, also pointed out that light engineering and electronics, telecommunications and IT, power, energy, water and marine and other infrastructure projects as well as in hi-tech manufacturing and microprocessors could also be attractive areas for Saudi investments.
Hasina is now in Saudi Arabia on a five-day official at the invitation of King Salman bin Abdulaziz AlI
The premier told the Saudi entrepreneurs that Bangladesh adopted a very liberal investment policy while it also ensured foreign ventures protection by enacting investment friendly laws and offering general tax holiday, concessionary duty on machinery imports, remittances of royalty and 100 per cent foreign equity.
Besides, she said, other benefits like unrestricted exit policy, full preparation of dividend and capital on exit were also being offered to the investors.
Hasina said Bangladesh's young, industrious and easily trainable abundant workforce with competitive wages, cheaper establishment coats and duty-free and quota-free access to European, East Asian, Canadian and Australian markets were added advantages for foreign investors.
The premier told the Saudi entrepreneurs that readymade garment sector appeared to be a tremendous success story earning Bangladesh the repute of being the world's second largest garment exporter while the RMG industry currently employs five million workers, 90 per cent of them being women.
Following the footsteps of the RMG sector, she said, pharmaceuticals, ICT and related industries and shipbuilding were also making significant progress. The premier particularly pointed out that after meeting up 97 per cent of domestic requirements; Bangladesh's pharmaceutical products were now being exported to 92 countries.
'Gartner has billed Bangladesh as one of the top global destinations for software and IT services. Thousands of 'Made in Bangladesh' applications are running on iPhones, Samsung Galaxy, and other Android and Blackberry phones,' she told the Saudi investors.
The premier said Bangladesh's builders have drawn global attention by making world-class light to medium-size oceangoing vessels while the industry now commanded 1 percent share of the US$ 200 billion global market.
Hasina reminded the Saudi business leaders that the trade relations between Bangladesh and Saudi Arabia dated back to the seventh century when Arab traders first set foot in the port city of Chittagong.
She said after centuries of vibrant trade links, both the countries posted increasing level of bilateral trade in recent years crossing the $1 billion mark in the last FY15 but still 'there is huge potential to enhance the two way trade'.
The Prime Minister said both Bangladesh and Saudi Arabia have been enjoying excellent bilateral relations which are based on common faith, culture, values, and aspirations.
Speaking on the occasion, JCCI vice chairman Mazen M Batterjee said KSA could be the 2nd home of Bangladeshi businesses and the JCCI would send a business team to Bangladesh to explore the prospects of business.
He said Saudi Arabia's Vision 2030 laid emphasis on KSA's enhanced international investment while Bangladesh should be one of its major destinations.
The Saudi chamber leader termed the trade volume between the two countries as inadequate and said that this should be boosted and 'there is a scope for working together by the businessmen of the two countries'.
He also expressed the hope that Bangladesh premier's visits to the kingdom and the understanding between the two countries could ensure enhanced bilateral trade and investment links.
Foreign minister AH Mahmood Ali, PM's principal secretary Md Abul Kalam Azad, eminent businessman Salman F Rahman, FBCCI president Abdul Matlub Ahmed were present, among others.
A memorandum of understanding (MoU)was also signed on the occasion between Saudi Bawani Group and Bangladesh's Sena Kalyan Sangstha for supplying of skilled manpower including engineers and architects in construction sector there.
PM's principal secretary Md Abul Kalam Azad and general manager of Bawani Group Fakher Al Shawaf inked the MoU on behalf of their respective sides.
Source: New Age