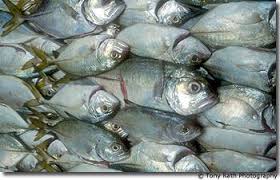 Bangladesh earned Tk 4158.98 crore (US$ 53.49 crore) by exporting 84.904.50 metric tons of different kinds of fishes in the last fiscal year (2012-13), which was less than the previous two years.
Fisheries and Livestock Minister Md. Sayedul Haq informed this in Parliament in a written answer to a question of Jatiya Party MP Nurul Islam Milon (Comilla-8).
In 2011-12 fiscal, the earning was Tk 4703.95 crore (US$ 59.81 crore) by exporting 92479.18 metric tons of various types of fishes while the earning was Tk 4603.67 crore (US$ 63.93 crore) by exporting 96469.23 metric tons of fishes in fiscal 2010-11.
Currently, Bangladesh is exporting various kinds of sweet water and sea fishes, and shrimps, the Minister informed.
He also mentioned that in the current fiscal year (2013-14), a total of 25 development projects are being implemented under the Fisheries Department.
Source: UNBConnect