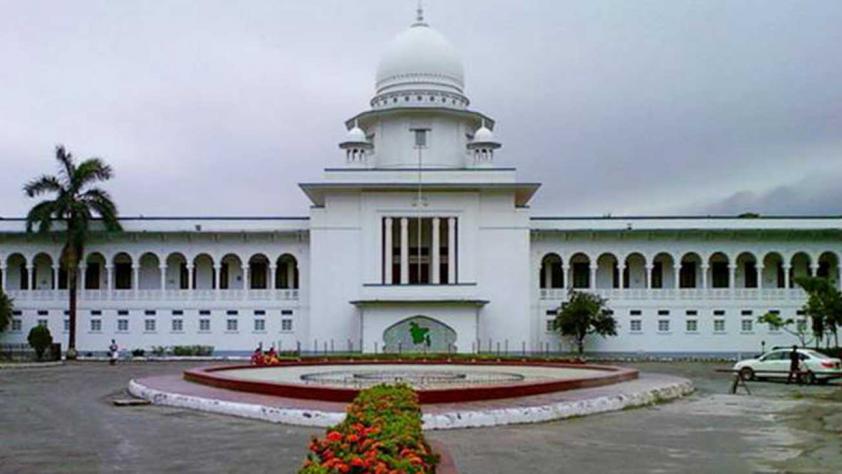 A High Court bench yesterday heard a writ petition challenging the legality of section 57 of the ICT Act and rejected the plea saying it was not maintainable due to it being premature.
The bench came up with the view after Deputy Attorney General Tapas Kumar Biswas opposed the petition and told the court that some measures regarding the controversial provision in the act was being considered by the government.
The HC bench of Justice Quazi Reza-Ul-Haque and Justice Abu Taher Md Saifur Rahman then rejected the petition filed by a Supreme Court lawyer.
The court said the petitioner could move another petition challenging the sections of the Information and Communication Technology Act 2006, if he could mention any new grounds on the matter.
According to the section 57 of the act, if any person deliberately publishes or transmits false, obscene and derogatory information in a website or in any other electronic form, he or she will be sentenced to seven to 14 years' imprisonment and fined with maximum Tk 1 crore.
The section has triggered widespread criticism and outcry. Many legal experts have termed the provision against article 39 of the constitution which guarantees freedom of speech, expression and the freedom of the press. The editor's council alongside others has demanded cancellation of the provision.
In the face of protests, Law Minister Anisul Huq has recently said the government would consider revising the section as many have raised questions about it.
Senior ruling Awami League leader Suranjit Sengupta, also the chairman of the parliamentary standing committee on the law ministry, has advocated for the cancellation.
Eunus Ali Akond in his petition also challenged section 86 of the ICT Act, which states that the government employees could not be sued for offences under section 57.
Another HC bench yesterday began hearing another petition challenging the legality of section 57.
The HC bench of Justice Farah Mahbub and Justice Kazi Md Ejarul Haque Akondo would resume the hearing today. Attorney General Mahbubey Alam is likely to explain the government's stance on the section in his argument before the court today.
Zakir Hossain, an accused in a case filed under this section with a cyber tribunal in Dhaka, moved the petition on August 26 urging the HC to declare the section unconstitutional.
During yesterday's hearing, Zakir's lawyer Emran Siddiq argued that section 57 provides the administration "unfettered discretion".
Emran told the court that the maximum punishment for crimes, to be dealt with under the section, is 14 years in jail while it is two-year imprisonment under the Penal Code and five-year's jail under the pornography act.
Therefore, the government could pick and choose any law to try any accused, he told the court.
It is arbitrary and discriminatory, and it squarely violates the constitutional provisions regarding equality before law, right to protection of law, protection of life and personal liberty, and freedom of thought, conscience and free speech, the counsel argued.
Source: The Daily Star