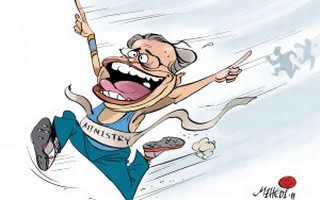 A Dhaka court has acquitted all seven accused in the Padma bridge corruption case after accepting the final report by the Anti Corruption Commission (ACC).
Special Senior Judge Zahurul Haque on Sunday issued the order bringing curtains on the case that started nearly two years ago.
The ACC submitted its final report in the case on Sept 3 saying it did not find trace of any corruption in the project.
The World Bank suspended its $1.2 billion credit raising suspicion of graft allegations but the government denied the charges outright.
After much ado, the Sheikh Hasina government in January last yearwithdrew its funding request and decided to bridge the Padma with domestic funds.
However, it ordered the national anti-corruption agency to investigate the allegations.
ACC Deputy Director Abdullah Al Zahid filed a case implicating sevenpeople, including then the Bridges Division Secretary Md Mosharraf Hossain Bhuiyan, on Dec 17, 2012.
Bhuiyan was arrested and suspended from his job. But in June last year, his suspension order was withdrawn and he was reinstated.
Former communications minister Syed Abul Hossain, who resigned after the allegations were raised, was not named in the case. Neither was former state minister for foreign affairs Abul Hasan Chowdhury.
The World Bank banned Canadian firm SNC-Lavalin for 10 years from all its projects because of its "misconduct" in relation to the Padma project.
After stalling the project for two year, the bank in a recent report advised the government to hasten the project work to improve connectivity.
A Chinese company has been tasked with constructing the bridge's main structure in four years at a cost of Tk 121 billion.
The bridge, Bangladesh's largest infrastructure project till date, will connect 21 southern districts with capital Dhaka.
Once commissioned, it is expected to boost Bangladesh's growth by as much as 1.2 percent.
Source: bdnews24