2-day national mourning declared, visitors' movement at airport restricted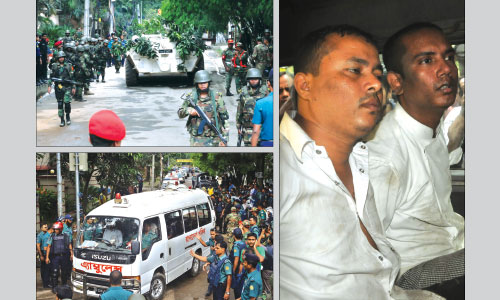 The 12-hour hostage crisis at Spanish restaurant Holey Artisan Bakery in the capital's highly secured Gulshan diplomatic area ended on Saturday morning claiming 28 lives including 17 foreigners, 2 police officials and 6 suspected gunmen.
Army-led 'Operation Thunderbolt' with sophisticated arms, armed personnel carriers and huge personnel shot to death six of the attackers who killed at least 20 hostages, including of nine Italians, seven Japanese, three Bangladeshis and one Indian national, slitting throat inside the restaurant on Friday night.
The government declared a two-day national mourning while different countries and local and international platforms also denounced country's deadliest 'militant attack.'
'During the search, 20 bodies were recovered of all who were killed last night [Friday] and mostly with sharp weapons,' said the army's director military operation Brigadier General Nayeem Ashfaq Chowdury at a briefing at Dhaka Cantonment.
He said that they took control over the area after 'destroying the terrorists' within 12-13 minutes while one suspect was arrested. They seized weapon used by the attackers including an AK22 rifle, unexploded improvised explosive devices, walky-talky and a number of sharp weapons.
The police headquarters named five killed suspects as Akash, Bikash, Don, Badhon and Ripon without elaborating their details including address.
None of the rescuers were harmed during the operation, the army official said, adding that one Japanese national, two Sri Lankans and 10 Bangladeshi were rescued.
Nayeem said that some 'miscreants' stormed the restaurant opening fire at about 8:45pm on Friday.
The attackers took hostage more than 35 people, according to the officials.
Nayeem claimed that police rushed to the spot immediately and tried to control the situation, leaving two police officers killed and 20 others injured.
Dhaka Metropolitan Police assistant commissioner Robiul Islam, 34, and Banani police station officer-in-charge Salauddin Khan, 50, got killed in bomb blast. Coroners stated that splinters caused excessive bleeding in both cases.
At the briefing at about 1:00pm, Nayeem did not allow any questions did not mention the victims' sex, nationality, age group and the identities of the attackers. The exact number of hostages could not be confirmed immediately.
Name of the arrested was not disclosed.
US-based SITE Intelligence Group said that Islamic State claimed responsibility for the attack.
'#ISIS' 'Amaq News Agency reported that #ISIS fighters carried out the attack at a restaurant in #Dhaka #Bangladesh,' SITE said in a tweet. In another tweet SITE also claimed that over 20 people of different nationalities were killed in the incident.
Nine Italians – Adele Puglisi, Marco Tondat, Claudia Maria D'Antona, Nadia Benedetti, Vincenzo D'Allestro, Maria Rivoli, Cristian RossiI, Claudio Cappelli and Simona Monti – were killed on Friday's attack in Dhaka, according to Italian foreign ministry.
Japanese chief cabinet secretary Yoshihide Suga said that seven nationals of the country were killed in the incident.
Dhaka-based Japanese restaurant businessman Tanaka Chizuru told New Age that five male and two female Japanese were killed.
'I have been living in the country for 25-year,' she said, adding, 'but now the time to say goodbye.'
The families confirmed three Bangladeshis ¬– arts promoter Ishrat Akhond, daughter of Elegant group chairman Abinta Kabir and Transcom Group owner Latifur Rahman's grandson Faraz Hossain – were killed.
Indian external affairs minister Sushma Swaraj tweeted that one of the victims was Indian national Tarishi, 19, who passed out from American School Dhaka. Presently, she was a student at Berkeley in the United States.
'I have spoken to her father Sanjeev Jain and conveyed our deepest condolences. The country is with them in this hour of grief,' her tweet reads.
In a statement at 7:45pm, Inter Service Public Relations stated that the identities of the 20 bodies recovered during the rescue operation were not confirmed yet.
'The process of identification continued,' it reads.
The bodies were moved to Combined Military Hospital at Dhaka Cantonment on Saturday in tight protection from the spot and post-mortem examinations were performed there.
Fire service and civil defence deputy director Muzammel Hoque, who took part in the rescue operation, said that the 20 bodies were found scattered at places.
'The bodies had marks of injuries of hacking and slitting throat,' he said.
A senior police official said eight of the 20 were female.
Detective investigators examined all the people rescued. No case was filed until 9:45pm, said Gulshan police station duty officer Nazrul Islam.
On Friday night, gunmen stormed the Spanish restaurant at Gulshan, triggering a gunfight with police that left the two police officers killed and 28 injured.
Heavily armed police and paramilitary guards cordoned off the area after the gunfight broke out at about 9:20pm. Some of the restaurant staff members and customers, however, managed to flee.
'They attacked us when we were getting prepared,' said a senior police official who escaped unhurt.
The inspector general of police, AKM Shahidul Hoque, told the newsmen that five of the six attackers killed were 'wanted militants.'
Claiming that the attackers were not members of Islamic State, he said they had been trying to find out the link of IS's claiming responsibility for attacks in Bangladesh.
The police chief said that police would strengthen the anti-militant raids with a policy of zero tolerance transforming their grief into power.
He said that police had taken all the preparations to ensure security but 'all of them were not perfect.'
'Due to our preventive measures, nine in every 10 of their [militants] plans are foiled,' he said.
Home minister Asaduzzaman Khan Kamal said the attack was another manifestation of the ongoing 'militant attacks.'
He vowed to continue anti-militant raids in the country, and hoped that the law enforcing agencies would overcome the situation soon.
In the country's deadliest attack, the joint team comprised of army commandos, navy, Border Guard Bangladesh, police and fire service took part in the rescue operation.
The joint team began the operation at about 7:45am with more than half-a-dozen armoured vehicles. The operation continued for nearly an hour before some of the rescued people were taken to hospital by waiting ambulance.
Chief of army staff General Abu Belal Muhammad Shafiul Huq and inspector general of police AKM Shahidul Hoque were present during the rescue operation.
Following the attack, the Civil Aviation Authorities, Bangladesh imposed a fresh restriction on visitor's movement at Hazrat Shahjalal International Airport in Dhaka, officials said.
Source: New Age