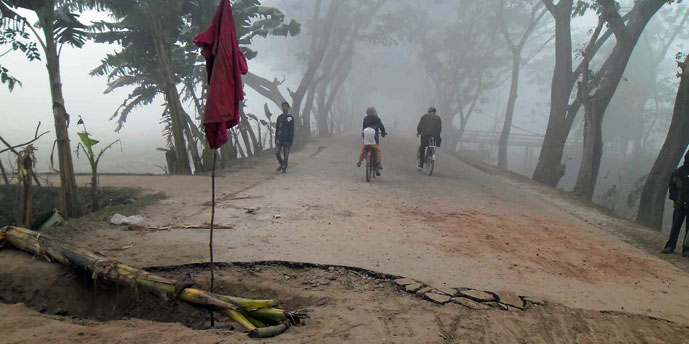 At least 17 opposition activists and an ansar member were killed in 12 districts as violent clashes, aimed at foiling the 10th general election, erupted today across the country centring the controversial polls boycotted by the opposition.
Scores of polling stations — mostly schools — and election materials have been torched and vandalised, forcing the election office to suspend voting at 161.
Frustrated over the one-sided nature of the polls, voters also seem to be afraid of the widespread violence that began with attacks on the polling centres Friday night.
The 18 were killed in Dinajpur, Rangpur, Nilphamari, Feni, Laxmipur, Munshiganj, Lalmonirhat, Thakurgaon, Chittagong, Naogaon, Gaibandha and Jessore districts.
Meantime, a pro-BNP man hurt in a clash with Awami League activists in Lalmonirhat Saturday, succumbed to his injuries at Rangpur Medical College and Hospital early today.
The opposition has boycotted the vote and slapped a two-day hartal (shutdown) announcing to resist the election which it termed 'a farce'.
DINAJPUR
An ansar member and two opposition men were killed and five others injured in three separate incidents of violence in Patgram upazila of the district.
The ansar man was beaten dead by Jamaat-Shibir men as the law enforcers were trying to resist the party men from attacking a polling centre in the upazila this morning.
Two more ansar men and two voters were among the injured.
The dead victims are: Md Wahed Ali, an ansar member; Raihan Masud 22, an activist of Jatiya Jubo Sanghati, the student wing of Jatiya Ganatantrik Party, an ally of 18-party; and BNP activist Chunnu Mia, 30.
All the victims were hailed from the upazila, reports our correspondent.
Sohel Rana, publicity secretary of Shibir district unit, claimed the responsibility of the killing of ansar man.
He was posted for polls duty at Uttar Salandarpur Government Primary School centre.
Jamaat-Shibir men armed with sticks attacked the polling centre around 11:00am, Paban Kumar Sarker, the presiding officer of the centre who also sustained injuries in the attack, told The Daily Star.
As the ansar men and the election officials tried to resist them, the Jamaat-Shibir men beat them indiscriminately, leaving Ali dead on the spot.
Voting came to a halt in the centre following the violence.
Meanwhile, two more activists of 18-party were killed when the members of Border Guard Bangladesh (BGB) opened fire after being attacked by the opposition men in Parbatipur upazila around 1:00pm.
In another incident, Chunnu was killed during a clash between BNP activists and ruling Awami League men in front of Khorakhai Baiswapara Government Primary School centre at Hoiburpur village of the upazila.
RANGPUR
Two Jamaat men were killed as police opened fire on the activists, who were trying to seize a polling centre in Pirgachha upazila around 1:30am, Maqbul Hossain, officer-in-charge (OC) of Pirgachha Police Station, told The Daily Star.
One of the deceased was identified as Merajul Islam, the OC said.
Around 30 to 35 Jamaat men swooped on the on-duty law enforcers with sharp weapons in a bid to occupy Deuty School and College polling centre in Parul union around 1:30am, the police official said.
Police had to fire several gunshots to disperse the attackers, leaving the two Jamaat men dead on the spot.
NILPHAMARI
Two people including a Jamaat man were killed in police firing in Dimla and Jaldhaka upazilas of the district.
Jahangir Alam, 22, was killed as police opened fire on a group of Shibir men when they were trying to torch a polling centre at Khalishachapani Government Primary School around 1:00am, reports our Nilphamari correspondent quoting Abu Rafa, upazila nirbahi officer (UNO) of Dimla.
Voting at the centre has been postponed following the incident.
In Jaldhaka, Mamtajul Haque, 45, an activist of local Jamaat, died on the spot as police opened fire when over 200 Jamaat-Shibir men tried to bar voters from casting their votes at Kaimari Govt Primary School polling centre around 11:00am.
FENI
A Jubo Dal activist and a Shibir man were killed and another Shibir men injured in police firing in Sonagazi upazila of the district
Jamshed Alam, 25, was killed and two Shibir men sustained bullet injuries when police tried to foil the opposition activists' bid to snatch ballot papers from Uttor Char Chandia Government Primary School around 10:30am, said Subhash Chandra Pal, OC of Sonagazi Police Station.
On of the injured, Shahidullah, were succumbed to his bullet wounds nearly two and a half hours after the incident at Sonagazi Upazila Health Complex.
LAXMIPUR
An activist of Shibir was killed and two more were injured when police open fire on them during a clash in Ramganj upazila of Laxmipur.
Victim Mohammad Rubel, 22, was a Shibir activist of Charmandari village in Faridganj upazila of Chandpur, reports our correspondent quoting Rezaul Kabir, officer-in-charge of Ramganj Police Station.
The clash took place around 12noon when the activists of BNP, Jamaat and Shibir swooped on Machhimpur High School polling centre to create panic among voters for establishing supremacy in the area.
Immediately after the voting began in the area, attacks on polling centres and torching on ballot boxes and papers were reported from different polling centers including Machhimpur of the upazila, said the OC.
As the situation escalated, in Machhimpur centre, police spread bullets to take the situation under control, Md Farhad, a sub-inspector, told The Daily Star.
During the incident, Rubel died of bullet wounds on the spot while two other unknown Shibir men received injuries, the OC added.
MUNSHIGANJ
Kangkan, 24, joint secretary of JCD Shimulia union in the upazila, died as he being chased by police jumped into a water-filled ditch in Tongibari upazila of the district.
Police chased the JCD leader when he was trying to hurl a petrol bomb at Dakshin Kathadia-Shimulia Government Primary School polling centre around 5:50am, reports our Munshiganj correspondent quoting local UNO Nasreen Parvin.|
Kangkan succumbed when police was taking him to the police station after rescuing him from the ditch.
The law enforcers also recovered the petrol bomb from the spot.
LALMONIRHAT
An activist of Swechchhasebak Dal died a day after AL activists stabbed him during a clash with AL in Patgram, reports our Lalmonirhat correspondent.
Farooque Hossain, 34, succumbed to his injuries at Rangpur Medical College Hospital around 5:15am, said Gautam Bishwas, a doctor of the hospital.
He was a member of Swechchhasebok Dal Bawra union unit, reports our Lalmonirhat correspondent quoting Habibul Haque Bosunia, chairman of Bawra Union Parishad.
The clash ensued when AL men resisted local BNP-Jamaat men from holding a rally in favour of its 48-hour hartal at Shafinagar village in the upazila.
Moabarok Hossain, a local leader of Swechchasebak Dal, died on the spot and ten others were injured.
The injured including Farooque was whisked off to Patgram Upazila Health Complex from where they were shifted to RMCH.
THAKURGAON
Three people including two BNP men were killed as law enforcers opened fire on the BNP and Jamaat activists who tried to bar voters from casting their votes at a polling centre in Sadar upazila around 1:00pm.
Faisal Mahmud, superintendent of police in Thakurgaon, confirmed the death of the three.
Two of the deceased were identified as Joynal, 21, son of Mokbul; and Harun, 20, son of Abdus Samad; of Khagrabari village in the upazila.
The third was named as Abu Hanif, 28, a BNP activist.
Mozaharul Islam Badal, general secretary of BNP Khochabari union unit, said police opened fire on BNP-Jamaat activists when they went to resist voters from exercising their franchise at Basudebpur Government Primary centre.
Joynal and Harun died on the spot, the BNP leaders said.
Local sources said BNP-Jamaat men attacked over 30 polling centres in Thakurgaon-1 constituency and locked into clashes with the ruling party activists and law enforcers.
At least 50 people including police, ansar and BNP-Jamaat activists were injured during the attacks.
Of them, 29 including six policemen were admitted to Thakurgaon Sadar Hospital till 3:00pm.
CHITTAGONG
A Shibir activist was killed in police firing during a clash between the opposition activists and law enforcers in Lohagora upazila of Chittagong this afternoon.
Lalu, 23, died on the spot when police opened fire on the unruly people who attacked a voting centre, reports our Chittagong correspondent.
The clash erupted around 3:30pm at Bhabanipur Government Primary School polling centre.
NAOGAON
A BNP activist was killed and six others were injured as joint forces opened fire in Manda upazila.
The deceased was identified as Babul Hossain, 25, reports our Rajshahi correspondent.
Opposition supporters were advancing towards two adjoining polling centres in Ramnagar village with local weapons around 11:00am when joint forces told them to return back, said Abdullah Hel Baki, officer-in-charge of Manda Police Station.
Ignoring the request, the activists shoot arrows to the law enforcers, the police official added.
In retaliation, the joint forces opened fire when Babul and his six other cohorts were wounded.
They were rushed to Rajshahi Medical College Hospital where doctors declared him dead.
GAIBANDHA
A Shibir man was killed and 22 people were injured during a clash between AL and Jamaat-Shibir activists in Sundarganj upazila, reports our Gaibandha correspondent.
The deceased was identified as: Shahabul Islam, 22, a Shibir activist.
The clash erupted near Monomoth Government Primary School around 1:20pm, leaving 24 men from both parties injured, said Shahidul Islam Monju, secretary of upazila unit of Jamaat.
Two of the injured were stated to be in critical condition.
Source: The Daily Star