The Prime Minister's Power, Energy and Mineral Resources Adviser Tawfiq-e-Elahi Chowdhury expects 100 new exploratory gas wells to be dug across Bangladesh in the next five years.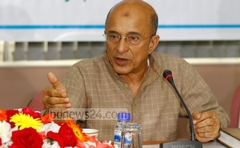 These wells could yield gas and meet some of the gas shortage the country faces, he said at a seminar at the Dhaka Chamber of Commerce and Industries (DCCI) auditorium on Saturday.
The seminar was titled, 'Prospects and Challenges for Industries in Energy and Power sector during 7th Five-Year Plan'.
Speaking as the chief guest, Chowdhury conceded that the country faces an acute shortage of gas and that it could not be said for sure how long the existing gas reserve would last.
"Offshore exploration is on, but it will take around 10 years to obtain gas from these sources," he said.
The adviser said that to deal with the shortfall, talks are on with governments of neighbouring India and Myanmar for importing gas.
"A nation's progress depends on petroleum availability," he said but observed that South Korea was prospering without any supply of gas.
Reacting to the complaints from the business community regarding shortage of gas supply, he advised them to invest in the Special Economic Zones.
"It is easy to provide gas and electricity supplies in these zones", he said.
Chowdhury said that currently 80 percent of the people have access to electricity.
Source: bdnews24