Cultural Correspondent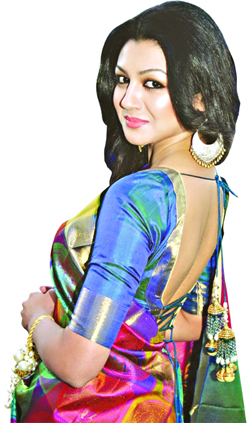 Jaya Ahsan has won the National Film Award in the best actress category. This is for the second consecutive time that she won the award.
This year she clinched the award for her performance in Redoan Rony's film Chorabali.
Last year, Jaya won the award in the same category for her performance in the protagonist character in Nasiruddin Yusuff's war of independence-based film Guerrilla.
Though last year Jaya was confident of winning the national award, she said she was not confident enough to win the award this year.
Once a popular and celebrated small screen actress, Jaya is now totally involved in films that she finds more challenging and rewarding than other media.
The actress now is working in Animesh Aich's film Zero Degree, where actor Mahfuz Ahmed works opposite to her.
In Chorabali, Jaya played the role of a young courageous journalist who brought in light the activities of a mafia group. Kolkata-based actor Indraneil Sengupta and popular Bangladeshi actors ATM Shamsuzzaman and Shahiduzzaman Selim also acted in the film.
Jaya Ahsan started her career as a model in 1990s. From then on to the middle of 2005, she appeared in acclaimed television serials like Amader Chhato Nadi, Chaita Pagol, Labanya Prova, Tebhaga, Sangshay and many more.
On the big screen, Jaya was first seen in Mostofa Sarwar Farooki's Bachelor. Jaya also appeared in Nurul Alam Atik's Dubshata, Tanim Noor's Phirey Esho Behula, Shafi Uddin Shafi's Purna Dourgha Prem Kahini.
Jaya Ahsan has also made debut in a Kolkata film Aborto, directed Charu Sen.
Source: Weekly Holiday