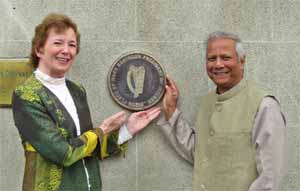 Nobel Laureate Professor Muhammad Yunus opened the Mary Robinson Centre at Ballina town, in Mayo County, west of Dublin in Ireland on October 17. He was invited by former president of Ireland and former UN High Commissioner for Human Rights Mary Robinson to open the Center.
Prof Yunus made his inaugural human rights lecture at the center on the day which coincides the 'International Day for Eradication of Poverty' which is an annual event observed every year on October 17.
Many Anderson Center will work on promoting human fights and climate justice. It has been housed at her ancestral home where he was born and grew up as a child. This home was donated by the family to the City Council and now converted into Mary Robinson Centre, said a press release of the Yunus Center in Dhaka.
On October 18, Dublin City University, a top university of Ireland conferred Professor Yunus the Doctorate in Philosophy Honoris Causa. This is a dynamic Irish University focused on healthcare science and technology.
Chancellor of the University Dr Martin McAleese and President of the University Prof Brian McGraith conferred the degree in Prof Yunus in a special convocation organized for this purpose. It was attended by 400 faculty members, students and guests including many from the Bangladeshi community in Ireland.
Professor Yunus visited Ireland from October 17 to 20 on invitation from the One Young World Summit where he was a key note speaker. He was made a counselor of the young people aged 18-30, who attend the Summit every year from all over the world since the launching of the One Young World summit five years back.
Other Counselors of the Summit include Sir Bob Geldof, Kofi Annan, Mary Robinson and Wikipedia Founder Jimmy Wales. Yunus also led an open air ceremony to commemorate the 25th anniversary of the Fall of the Berlin Wall on the occasion in which 1,300 participants took part.
Professor Yunus has been invited by the City of Berlin to be the Chief Guest at the official 25th Anniversary of Fall of the Berlin Wall that will take place in Berlin on November 9.
Ten young people from various universities of Bangladesh took part in this year's One Young World summit.
Source: Weekly Holiday