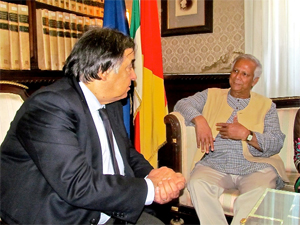 Nobel Laureate Professor Muhammad Yunus met Italian Senator and Mayor of Palermo Leoluca Orlando at his Mayor's office in Sicily's capital on August 7.
President of the Municipal Council Salvatore Orlando and President of the Council of cultures Adham Darawsha among others were present. They invited Dr Yunus to launch a social business programme in their city to address the youth unemployment problem.
It may be joint venture project for women and youth using the assets confiscated from Mafia, they said. During his visit to Mayor's office, around 50 Bangladeshi nationals came to meet him. Three elected Bangladeshi council members joined the Mayor in his discussion with Professor Yunus.
The mayor announced that Bangladeshi community is now the largest foreign community in Palermo exceeding the Tamils who were on the top until now. There are more than 10,000 Bangladeshi nationals in the city. They have three council members on the city house.
University of Palermo with 50,000 students offered to confer an honorary degree on Professor Yunus during his next visit to the city and its Rector expressed his interest in getting his faculty members and students involved in social business project.
Source: Weekly Holiday