People who got Indian visas recently told the Dhaka Tribune that there are alternate ways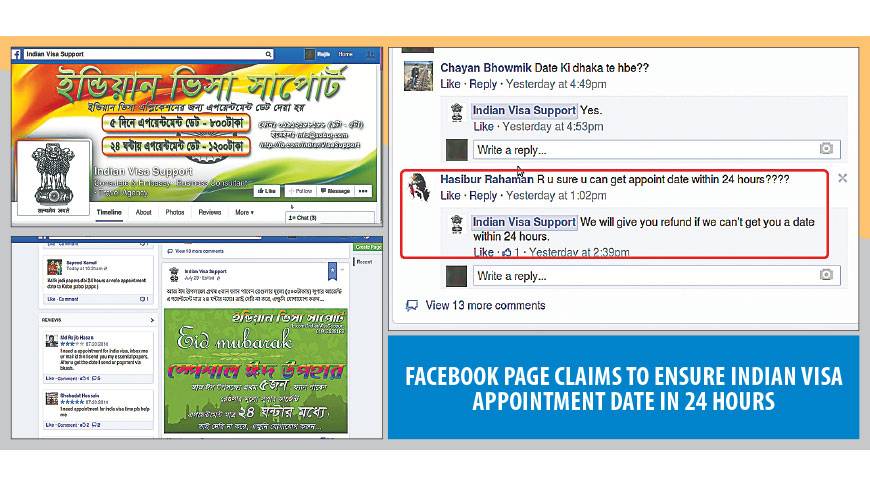 Over the past year or so, applicants trying for an online Indian visa appointment date have gotten used to one particular dreaded message: "no appointment dates are available."
Some realised for getting appointment dates, the applications had to be made at "unsocial hours" like 3 or 5 o'clock in the morning when the world is fast asleep.
But pretty soon, even getting up at that odd hour of the day and sitting in front of the computer with sleepy eyes could not guarantee an appointment; needless to mention that an appointment does not always ensure a visa.
But did that mean Bangladeshi people, who visit the neigbouring country for all kinds of reasons such as treatment, business, tourism and pilgrimage, were not going to get a seal in their passports?
People who got Indian visas recently told the Dhaka Tribune that there are alternate ways.
One of them, Chowdhury, applied online for a medical visa at the end of February, but was rejected thrice.
"Every time I applied online, I got a 'web registration number' but no appointment date. I tried to contact the High Commission of India over telephone, but in vain," Chowdhury said.
We are not disclosing Chowdhury's full name upon his request because he fears that he may be rejected an Indian visa in the future.
He continued: "Then I talked to some of my friends, who had gone to India before by applying online for a visa. They advised me to go to some travel agents or some particular shops in the capital's Farmgate, Motijheel and Gulshan areas. These shops have links with the high commission staff.
"I went to a shop in Farmgate and they asked for Tk1,000 but guaranteed that they would get an appointment date for me very soon. They then told me that if I paid them Tk8,000, they would even get the visa for me.
"When I asked them how, they said they knew the times of the day that the high commission gives appointment dates.
"I did not take the offer because it was not the right thing to do. Then I tried several more times to get a date the proper way, but failed. Time was running out fast because I had to go to India as soon as possible for my mother's treatment."
"A few days later I went to Chittagong, paid an 'agent' Tk3,000 and got appointment dates both for me and my mother," Chowdhury said.
He gave the Dhaka Tribune the machine-generated "pdf" web application files that he had got on various futile attempts.
For getting an Indian visa, a Bangladesh national needs to fill up an online form, at the end of which the visa seeker is supposed to get an appointment date to submit passport. Without an appointment date, ordinary citizens cannot get visas.
According to its website, the Indian Visa Application Centre (IVAC) processes around 500,000 visa applications of Bangladeshi passport holders every year, which, by far, could perhaps be the largest number by any visa processing agency worldwide.
This correspondent tried to get an appointment date at around 4:30pm on July 20; his application was also greeted with the same dreaded message: "No appointment dates are available."
The Dhaka Tribune has talked to many other Indian visa seekers who have been through the same ordeal; some of them, who did not want to go the "wrong way", have even given up hope of getting an Indian visa.
On July 15, this correspondent talked to a number of people standing in a long queue in front of the Indian High Commission office in the capital's Gulshan.
None of them wanted to disclose their names; but all of them said they had got their appointment dates by applying through unauthorised "agents."
The Dhaka Tribune has found a page on Facebook titled "Indian Visa Support" that had an impressive 10,641 likes as of 7pm yesterday. The Bangla subtitle could be translated as: "We give appointment dates for Indian visa applications."
The cover photo informs in Bangla that if someone needed an appointment date within five days, the charge is Tk800; an appointment date within 24 hours would cost Tk1,200.
The photo displays a mobile phone number:
01912 188188; an email address: "info@sobuj.com;" and a website address: "http://fb.com/IndianVisaSupport."
A Google Map landmark suggests that the page is based in Dhaka's Mirpur.
In one of the posts, Facebook user Hasibur Rahman inquired: "R u sure u can get appoint date within 24 hours????"
The reply from the Indian Visa Support page was: "We will give you refund if we can't get you a date within 24 hours."
The page even offered a special discounted rate of Tk500 for Eid for getting what they called "super urgent" appointments within 24 hours.
As the Dhaka Tribune understands, for getting an appointment date through the Facebook page, one has to talk with the contact person on the given cell phone number, take the address of the place in Mirpur, go there in person with the necessary papers and pay the cash if they get the appointment date.
Saiful Islam Bibek is the contact person of a shop named Ratul Tours & Travels in the capital's Gulshan area. The shop is located very close to the Indian High Commission.
When this reporter, disguised as an applicant, contacted him, Saiful demanded Tk4,000 and guaranteed that he would get an appointment date in less than three days.
Asked how he could give guarantee while people try in vain for weeks, even months, Saiful said: "You will not get it. It is all about 'system.' How would I explain? Apply your common sense brother."
The word "system" has recently made it to the everyday vocabulary of the Bangladeshis. It means a shady illegal deal for getting something done.
In February, independent MP Haji Md Selim told the House that Bangladeshis had been facing harassment while applying for Indian visas.
The MP also said even Pakistani nationals were not subjected to the kind of harassment that the Bangladeshis had been facing.
He said the e-token system, meant for simplifying the process, was actually making things difficult for people. Selim alleged that certain quarters were trying to make profit out of the system.
Asked how these unauthorised agents were guaranteeing appointment dates, Manoj Kumar Mohapatra, counsellor (political) at the Indian High Commission in Dhaka, told the Dhaka Tribune: "They are your [Bangladeshi] people. We have given everything in writing to the Foreign Ministry and the Home Ministry… The system is hacked and who is hacking – your people."
Asked what he meant by "everything in writing" to the ministries, he said: "The names of the people who are involved in this business."
He claimed: "We do not have any middleman. There are some middlemen, who are doing this and we have given all details to the Foreign Ministry."
He then put the entire blame on the law enforcement in the country: "If your police become ineffective, what could we do?"
The Indian Visa Application Centre (IVAC), a concern of the State Bank of India, was outsourced in 2005 to provide visa services at the various high commission offices of India in Bangladesh.
The State Bank of India, majority shareholding of which lies with the Indian government, is the largest commercial bank in India.
The IVAC also provides visa processing services in Beijing, China, according to the website of the Indian Embassy website.
Source: Dhaka Tribune