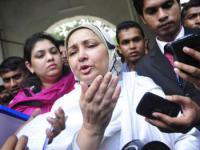 Police on Thursday pressed charges against seven people, including the wife and son of condemned war crimes convict Salauddin Quader Chowdhury, in a case filed over leaking the draft of verdict in the war crimes case against the BNP leader.
The chargesheeted accused are Salauddin Quader Chowdhury's wife Farat Quader Chowdhury, his son Humman Quader Chowdhury, his lawyer AKM Fakhrul Islam, Fakhrul's associate Adv Mehedi Hasan, manager Mahbubul Afsan, two staff of the International Crimes Tribunal-1-Nayan Ali and Faruq Hossain.
Inspector of the Detective Branch (DB) Md Shajahan submitted the chargesheet with the Chief Metropolitan Magistrate court on Thursday showing 25 people as witnesses.
Among the accused, SQ Chowdhury's son, wife and lawyer Mehedi Hasan are on the run while the rest are behind the bars.
Earlier, Nayan Ali and Faruq gave confessional statements to the court over their involvement in leaking the draft verdict.
ICT-1 on October 1, 2013 sentenced BNP standing committee member Salauddin Quader Chowdhury to death after finding him guilty of committing crimes against humanity and genocide during the 1971 Liberation War.
But, the verdict without containing the court observation and judgment got posted on different websites much ahead of its pronouncement.
Showing the copies of the verdict collected from the websites, Salauddin's wife claimed that the judgment against her husband was dictated and he was denied justice. She also said that the verdict circulated on the websites was originated from the Law Ministry.
Later, ICT admitted that the draft of the verdict had been leaked and a case was filed under the Information and Communication Technology Act in this connection.
Police arrested the accused ICT employees on October 5. Chowdhury's lawyer was arrested from his Segunbagicha residence on November 20.
Source: Prothom Alo