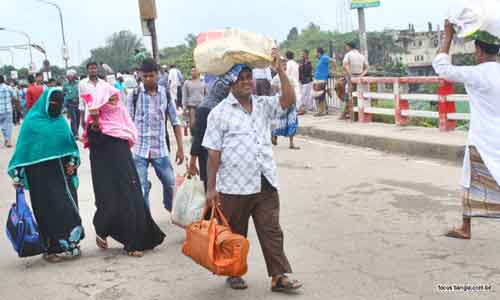 Despite stepping back from implementing new toll rate at First Bangladesh-China Friendship Bridge over Buriganga on Saturday in the face of workers unrest, the authorities concerned said they would very soon implement fresh toll rates as per toll policy 2014 on all roads and bridges under road transport and highways division.
Toll rates as per policy were yet to be implemented on 12 bridges under the division.
Bangladesh Sarak Paribahan Sramik Federation activists went on a wildcat strike blocking the bridge at Postagola since 8:00am on Saturday demanding withdrawal of the new toll rate. The transport worker's leader, Imdadul Haque Dadan, said that the authorit .
yestarted collecting excessive tolls since Friday which is difficult to pay.
Imdadul Haque, also the leader of 'Buriganga tollmukto Songram Parishad' said 'a CNG-run auto-rickshaw that was paying only Tk 10 is now paying Tk 35.'
Officer-in-charge of south Keraniganj police station, Jamal Uddin, said that they were trying sit for dialogue with both the sides to settle the problem. After about six hours, the transport workers withdrew the blockade after meeting with road transport and highways division.
The federation general secretary Osman Ali told New Age that after the meeting the officials withdrew new rate and announced to take the previous rate.
He said that they would continue their movement till the authorities would not make CNG run auto rickshaw out the purview of the toll rate.
The division was taking toll as per the toll policy, 2014 that fixes the rates based on the lengths of the bridges.
The RTHD chief engineer Md Feroz Iqbal admitted that they had faced hindrance from some quarters to implement the policy at some cases.
'Today we withdrew the new toll rate on the bridge to ease the sufferings of home-bound people after eid-ul-fitr. We will hold a meeting very soon and implement the new toll rate all over the country on all RTHD roads and bridges,' he said.
About making CNG auto rickshaw outside the purview of toll, he said the policy would be implemented on all vehicles mentioned in the policy.
A senior officer of the division said due to political pressure the policy is yet to be implemented on all RTHD bridges and roads.
The toll policy framed on March 2014 and came to effect on January 14, 2015. The policy was being framed for being implemented on four roads, 51 bridges and 45 ferries under the division.
Till now the policy was yet to be implemented on 12 bridges, said officials.
Source: New Age