Three-wheeler drivers, owners block roads across the country protesting ban; thousands suffer
Hasan Jahid Tusher and Pankag Karmakar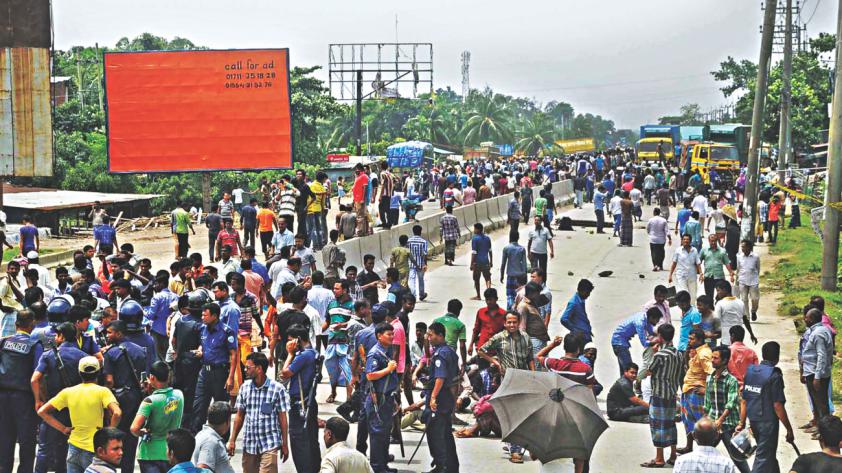 The government ban on three-wheelers and slow-moving vehicles on highways effective from yesterday brought enormous sufferings on people as transport owners and drivers put barricades at different points protesting the ban.
Parts of Dhaka-Chittagong, Dhaka-Khulna, Dhaka-Mymensingh, Dhaka-Sylhet, Dhaka-Tangail and Dhaka-Barisal highways were blocked by agitated transport workers, causing tailbacks on both sides of the roads.
Protesters clashed with law enforcers in some places, halting vehicular movements on different highways.
At least 20 people were injured in the attack and counter-attack while protesters vandalised at least 75 vehicles in different areas.
Meanwhile, police seized several auto rickshaws and auto tempos from different highways as part of the. On some other highways, however, they were seen operating, report our district correspondents.
On July 27, the Road Transport and Bridges Ministry issued an order, banning three-wheelers, auto-rickshaws, auto-tempos and other unfit and slow-moving vehicles on highways.
People wait for transports to go to their destinations at Nathullabad on Dhaka-Barisal highway. Photo: Star
In protest, Bangladesh Auto-Rickshaw-Auto Tempo Shilpo Bachao Sangram Parishad called for a demonstration and vowed to continue it until the ban is lifted.
But the road transport ministry yesterday asserted it would implement the decision to keep the highways safe. The ministry finds the slow-moving vehicles as a main reason behind the growing number of road accidents that claim hundreds of lives every year.
In the last few years, the government made similar decisions but they decisions came to naught for reluctance of the authorities responsible for implementing those.
Sources said the government took the issue seriously this time, following a series of road accidents in recent weeks. Road and transport Minister Obaidul Quader himself spoke with the ministries concerned about implementing the order.
Some get on a truck to get around after transport owners and workers took their vehicles off the roads protesting the ban on three-wheelers and non-powered vehicles on highways. Photo: Star
THE PROTESTS
In Sylhet, at least 10 people were injured as police fired rubber bullets and teargas shells when protesters and police clashed over road blocking at Rashidpur point on Dhaka-Sylhet highway.
Protesters vandalised at least 50 vehicles there.
Traffic movement on the road was suspended from 8:00am to 2:00pm, forcing vehicles to use an alternative road to teach Sylhet.
Transport workers also enforced a strike in different districts of Sylhet division, causing public sufferings.
In Savar, auto-rickshaw owners and drivers blocked the road at Savar bus stand on Dhaka-Aricha highway for around one hour from 10:00am, halting vehicular movements.
In Mymensingh, owners and workers laid siege to the office of the deputy commissioner and submitted a memorandum protesting the ban.
In Feni, at least five people, including two policemen, were injured in a clash between cops and auto-rickshaw drivers and workers when the protesters blocked the Dhaka-Chittagong highway at Mohammad Ali Bazar point around 10:00am. Traffic movements were suspended for about an hour.
Protesters damaged five vehicles and police fired 82 rubber bullets to disperse the crowd.
In Comilla, police and drivers and workers were locked in a clash when the latter blocked the road at Gazipur point around 10:00am. Vehicular movement remained suspended for around three hours on Dhaka-Chittagong highway.
A family of three with luggage trying to reach their destination in Tangail. Photo: Star
Protesters vandalised about 20 vehicles and police fired 58 rubber bullets to disperse the demonstrators.
In Barisal, bus operators enforced a strike for an indefinite period protesting the road blockade by owners and workers of three-wheelers.
In Narayanganj, auto-rickshaw drivers and owners put a barricade at Kanchpur for around half an hour from 11:00am, causing tailbacks on Dhaka-Chittagong highway.
Jamal Hossain, president of Narayanganj district CNG-auto rickshaw owners' association, said, "We will have no income because of the ban. Besides, we have to pay bank loans. So, our lives will be paralysed if the ban is implemented."
In Chittagong, several hundred auto-rickshaw drivers and owners blocked the Dhaka-Chittagong highway in Faujdarhat area for around 15 minutes.
In Tangail, auto-rickshaw owners and workers enforced a 48-hour strike from 6:00am yesterday, causing sufferings to hundreds of commuters.
"The government should develop the overall road transport system and upgrade the highways into four-lane roads and designate separate lanes or alternative roads for small vehicles," said Mokhlesur Rahman, a commuter who was waiting along with his wife and children for a vehicle at Tangail Old Bus Stand.
In Narsingdi, three-wheelers and auto-rickshaws were seen plying through different points of Dhaka-Sylhet highway.
An auto-rickshaw driver, Abdur Rahman, criticised the government decision and said his family was facing financial crisis as he could not work for the previous two days.
MAN Siddique, secretary of Roads and Highways Division, said the government would not back away. "We will implement the decision."
Out of 2.5 lakh kilometres roads and highways, only 3,570km have been made off-limits to all kinds of three-wheeler auto-rickshaws, auto-tempos and non-motorised vehicles, he told reporters at his office yesterday.
Source: The Daily Star