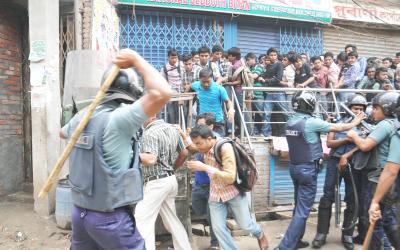 Jagannath University Teachers Association (JnUTA) has issued 24-hour ultimatum to withdraw DC Lalbagh Harun-ur-Rashid and Kotwali OC Mohammad Moniruzzaman, following a clash between students and police over occupying a students' hall that injured 50 people.
The association president Akkas Ali on Sunday evening issued the ultimatum to the government.
Earlier, a clash erupted between the university students and police during their demonstration demanding recovery of an occupied hall in Bangla Bazar area in the city on Sunday morning. The clash left 50 people, including 20 police men, injured.
Protesting police attack on teachers and students and demanding a solution to residential problem of the varsity's teachers and students, JnU teachers will wear black ribbon on Monday. They will stage a protest rally that will be concluded in a human chain in front the National Press Club.
Campus sources said the students of the university gathered in front of main gate of the university and staged demonstration demanding recovery of Tibbat hall of the university from the occupiers.
While the students were trying to move towards the occupied hall around 11:15am the law enforcers charged baton, fired tear gas shells and rubber bullets to disperse the students, triggering a clash.
A chase and counter-chase took place between police and the students which turned the whole area into a battle field.
Billal, a student of the university, sustained bullet injury during the clash.
Additional police have been deployed in the area to bring the situation under control.
The violence created a 6-km tailback from Gulistan to Kadamtali of Keraniganj on Dhaka-Maowa road.
Source: UNBConnect