Taslima Nasreen on Saturday told journalists here she has been granted residential visa by India.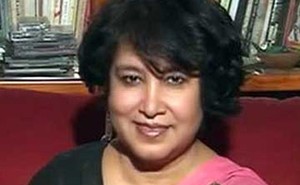 This followed her meeting with Indian Home Minister Rajnath Singh, to whom she requested for grant of long-term extension of her residence permit.
"I met Rajnath Singh today (Saturday) and gave him my book 'Wo Andhere Din' (Those Dark Days). In return he said my dark days are over," Taslima told bdnews24.com.
Earlier, Taslima had expressed her anguish after the government on Wednesday refused her a one-year visa giving her instead a temporary permission to stay in India for two months.
After her furious outburst on a social networking site, huge support for her has been pouring from various quarters in India.
Press Council of India Chairperson and former Supreme Court judge Markandey Katju demanded permanent visa for the 52-year-old writer who has been living in exile since 1994.
Taslima, however, expressed her surprise over intellectuals from Kolkata — her "second home" — remaining silent on the issue.
Most West Bengal intellectuals, specially those close to the state's ruling Trinamul Congress, are uncomfortable with the prospects of her return to India.
"I am surely surprised that people in Kolkata known for their righteous stand have chosen to remain silent. But at the same time I must admit I have gotten used to this. There were not many voices when I was thrown of my home — Kolkata," she said.
'Exiled' from Bangladesh in 1994 for "hurting religious sentiments" with her novel "Lajja", Taslima Nasreen took refuge in Kolkata in 2004.
But after violent protests in the city in November 2007, the erstwhile Left Front government whisked her away to New Delhi where she has been living since then.
Eager to come back to Kolkata, Taslima said so long as the Mamata Banerjee government in the state continues to accede to the whims of religious fanatics, her return to the city is not possible.
"By banning my tele-serial Dusahobas, this government denied me a slice of livelihood. I have been repeatedly writing to Mamata Banerjee expressing my wish to come back to Kolkata, but so long as she continues to listen to the fanatics my return will never be possible," she added.
She said "Dusahobas" a story of three sisters and their triumph over the injustices meted out by the patriarchal society, would have been a source of inspiration at a time when crime against women was on the rise in the state.
Following protests by minority religious groups, the TV serial was refused telecast.
Source: bdnews24