Bangladesh cricketer Tamim Iqbal survives a close call after being cut with broken shards of glasses during Bangladesh's three-day practice match at Chittagong.
Tamim got out for 29 runs and walked towards the pavilion. Out of frustration he swung his bat which hit a door. The injury happened once he proceeded to  enter the dressing room. Upon pushing the glass door of the dressing room the glass broke down altogether. This resulted in Tamim losing his balance and falling down on the broken shards.
According to local media the injury could have been far worse if Tamim did not have his helmet and pads on. However, the broken glass cut him in the stomach resulting in blood loss.
"The moment I pushed on the door the glass broke entirely'" Tamim said.
"I fell to the ground as well and if anyone saw the state of my pads, they would know how dangerous the accident could have been."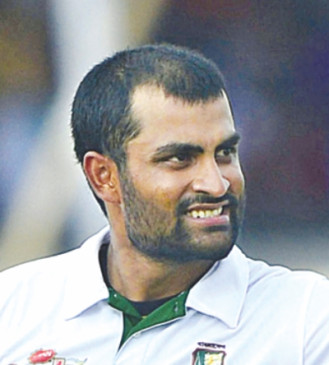 "Thanks to Allah that I got off from such a dangerous situation. The injury is nothing serious, I am just thankful since the situation could have been bad.
"The injured area sometimes stretches the skin but it's nothing serious," Tamim informed.
Tamim has four stitches on his stomach owing to the injury. The injury will be assessed after the stitches are cut. Tamim was unable to participate in Tigers practice session today after returning from Chittagong.
Source: The Daily Star