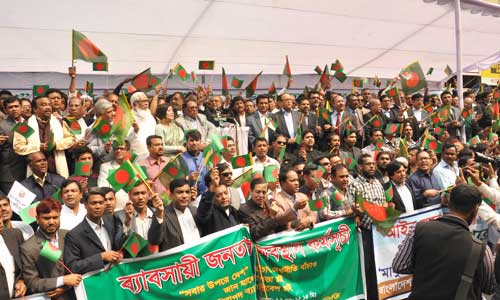 Businesses demanded immediate withdrawal of strike and blockade programmes and waive bank interests generated during the period of current political impasse.
The businesses made the call as Federation of Bangladesh Chambers of Commerce and Industry on Sunday held a 'stand-in' programme in front of its headquarters at Motijheel with a slogan 'Save country, Save Economy.'
The chamber leaders hoisted national flags and demanded an end to the deadly violence.
They reiterated that the political leaders adopt proper democratic means to stop violence and aggression demanding to bring an end to strike and blockade by enacting a law.
They asked the government to take immediate initiatives to overcome the political turmoil and contain violence and urged the people of all classes to raise their voices against destructive programmes.
A total of 83 were killed because of arson, clashes and aggression during the ongoing blockade and intermittent general strike programmes, sponsored by BNP-led alliance.
BNP in a statement, announced the strike on Friday as part of its movement for what it says resorting democracy and people's voting right, and protesting government's repressive acts and growing incidents of 'extrajudicial killing'.
A non-stop blockade programme has also been continuing since January since 6, as the government declined BNP and its allies permission to hold a rally in the city on the previous day.
Source: New Age