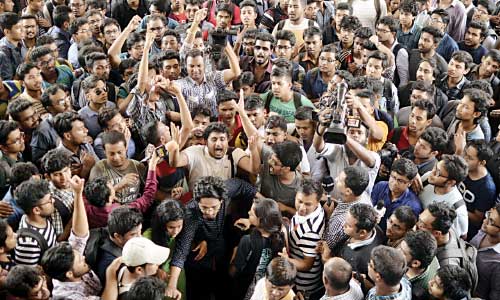 The Ahsanullah University of Science and Technology on Saturday suspended one of its teachers for sexually harassing a female student, in the face of demonstrations, by the students on its campus.
The suspended teacher Mahfujur Rashid Ferdous is an associate professor of electrical and electronic engineering department.
The chairman of EEE department, Abdur Rahim Mollah, confirmed New Age the suspension order.
There are allegations against the teacher of harassing at least two or more female students, he told New Age.
The students became agitated today out of anger, he said.
'The teacher has been suspended and the allegation has been sent to the anti-sexual harassment cell of the university for investigation,' he said.
The committee would submit its report as soon as possible, to be followed by further action, if the man is found guilty, the chairman added.
Meanwhile, the suspended professor declined to make any comment to New Age.
'I'm sorry. I'm not in a mood to speak,' he said.
At about 1:00pm, the agitating students were seen chanting slogans against the teacher demanding his expulsion and trial.
No classes and examinations were held due to the demonstration that started in the morning, officials said.
'He (the teacher) has no right to be our teacher now… he should be punished', said a student of EEE department.
The students called off their demonstrations around 2:00pm after the university vice-chancellor AMM Safiullah announced the decision of suspending the delinquent faculty member and pledged for further action after investigation.
Selim Mia, inspector (investigation) of Tejgaon industrial police said the teacher, Mahfujur Rashid Ferdous, allegedly harassed a female student sexually, promising her of extra marks in the exam.
The victim informed her fellows and the news spread fast, he said.
Source: New Age