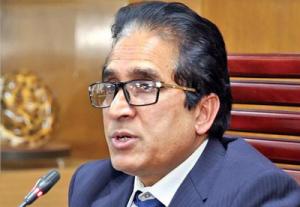 National Board of Revenue (NBR) chairman Mosharraf Hossain Bhuiyan on Saturdar said the government is considering reducing interest rates of state-owned savings certificates.
"The government has formed a committee to analyse all issues including interests for small savers. If the interest rate is reduced, it will be higher than that of banks as the government will consider the small savers' benefits," he said.
But, he said, it is not possible to say at this moment whether the rate will be changed this year or not.
The NBR chairman was speaking as the chief guest at the inaugural function of 'Savings Week-2019' at the National Sports Council in the city. The theme of the week is 'Sanchoy Shomriddhir Shopan'.
Mosharraf, also the senior secretary of Internal Resources Division, said the number of taxpayers will increase as the TIN has been made mandatory for savings certificates.
Besides, the anomalies related to the income tax ceiling and other issues will be eliminated with the introduction of online database system of savings certificates, he added.
Due to attractive rates of yields, the sales of savings tools have increased significantly. Nearly 95 per cent of the total target of the sales of savings instruments has been achieved in the six months of current fiscal year, he mentioned.
He informed that savings tools worth about Taka 250 billion have been sold in the first half of this fiscal. If savings department tries, it can sale another Taka 250 billion in the remaining months, he added.
Department of National Savings (DNS) director general Shamsunnahar Begum and senior officials of the DNS were present at the programme.
Shamsunnahar Begum said they have introduced online database on a pilot basis. But gradually, all savings outlets will be brought under the process, she added.
The target of the government's net borrowing from savings instruments is Taka 261.97 billion for the fiscal year (2018-19).
The DNS sells four types of savings certificates and the rates of yield are up to 11.76 per cent. It also sells different types of bonds to local and expatriate Bangladeshis.
Currently, around 20 million investors are involved in this segment.
Source: Prothom-Alo