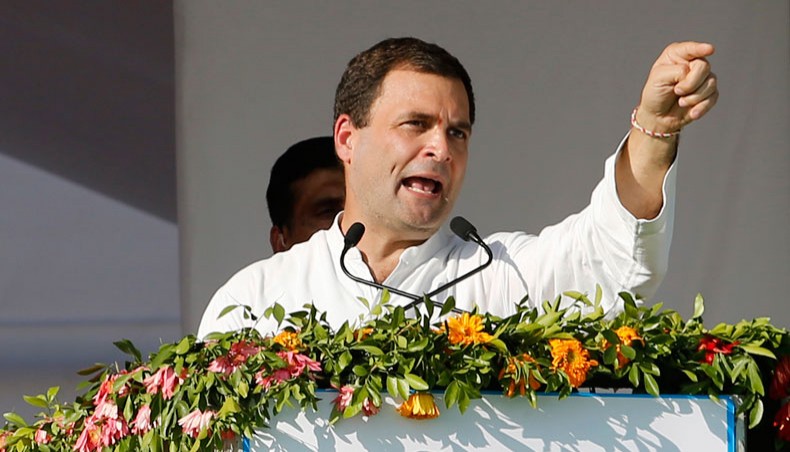 Leading opposition figure Rahul Gandhi demanded an investigation into allegations that two Indian conglomerates paid millions of rupees as bribes to prime minister Narendra Modi in 2013-14 when he was governing a western state.
Gandhi, the Congress Party vice-president and scion of India's Nehru-Gandhi family, said the allegations were found in diary notes and computer records of the Sahara Group and the Birla Group and were in possession of income tax authorities.
'Why these accusations are not being probed?' Gandhi asked Wednesday at a party meeting in Gujarat state. Modi was the state's top elected official before he became prime minister in May 2014.
Gandhi said in his speech that tax authorities had looked into the allegations and favored a full investigation. But the government has not confirmed that and Sahara and Birla have not commented on the allegations.
'We want an independent inquiry. We want you (Modi) to come forward and tell the country yourself,' Gandhi demanded.
GVL Narsimha Rao, a spokesman for Modi's Hindu nationalist Bharatiya Janata Party, dismissed Gandhi's accusations as baseless and asked him to file a criminal case against Modi.
Earlier this month, Gandhi accused Modi and BJP officials of not allowing him to speak in parliament during the session that ended last week. Gandhi had claimed he had evidence of 'personal corruption of prime minister Modi,' but did not reveal what it was.
Sambit Patra, another BJP spokesman, accused Gandhi of 'talking irrelevant things to stay relevant' and said his comments must be discounted. He told reporters that the allegations had previously been found to be unsubstantiated.
Gandhi has been highly critical of Modi's ban on November 8 of high-value currency notes, which was intended to force tax evaders to give up their cash stockpiles but also created hardship for ordinary Indians. The sudden withdrawal of 86 per cent of India's currency left cash in short supply, with retail sales stumbling and wholesale markets in turmoil. Hundreds of millions of people in India lack bank accounts and use cash to pay for everything from groceries to hospital stays to land purchases
Source: New Age