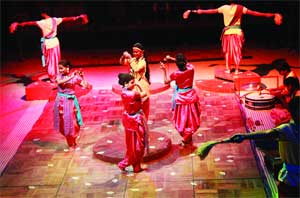 A five-day National Rabindra Sangeet Festival has begun on Tuesday at Shawkat Osman Memorial Auditorium in Central Public Library in city's Shahbagh area.
Bangladesh Rabindra Sangeet Shilpi Sangstha, in association with Indira Gandhi Cultural Centre, has organized the festival to commemorate to celebrate 154th birth anniversary of the Nobel Laureate Poet Rabindranath Tagore.
The event is planned to feature around a hundred artistes of the organisation presenting evergreen Tagore numbers, both in solo and group performances.
The organisers are also planning to celebrate late singer Kalim Sharafi's 91st birth anniversary on the concluding day of the festival. The opening day's show began with the chorus presentation of the national anthem, Amar Sonar Bangla Ami Tomay Bhalobashi, which written by Rabindranath Tagore. The group also presented his song O Amar Desher Mati Tomar Porey Thekai Matha at the programme. The captivating lyric of the number describing the scenic beauty of Bangladesh and also the soothing tune created a joyous ambience in the hall. Several other songs by Tagore were also presented subsequently. In solo renditions, singers Aniruddho Sengupto, Azizur Rahman Tuhin, Mamun Zahid, Shimu Dey, Indranil Karmakar, Sanjida Toma, Swathi Sarkar and others presented Tagore songs. Earlier, the festival was inaugurated by noted poet Asad Chowdhury who was present as chief guest of the opening ceremony. Among others, the deputy high commissioner of Indian embassy Sandip Chakraborty, and Tapan Mahmud and Sajed Akbar, respectively president and general secretary of BRSS, were also present on the occasion.
On the occasaion, Tagore artiste Nasrin Shams was honoured for her contributions in Tagore music.
The festival will remain open to all till May 9.
Robindra Mela
On the occasion of the 154th birth anniversary of Nobel Laureate poet Rabindranath Tagore, like the previous years, Channel i is organising a daylong fair titled 'AB Bank Channel i Rabindra Mela' on May 8 at Channel i premises in the city's Tejgaon area.
Noted theatre personality Ataur Rahman will be bestowed with the lifetime achievement award during this year's event.
This year's Rabindra Mela will feature daylong performance of Rabindra Sangeet by young and veteran singers, Rabindra dance-drama, children's dance, reciting Tagore poems, reading out his essays and drawing on Rabindranath. In addition, about 25 stalls of small and handicrafts industries will be installed at the fair premises.
The fair will be inaugurated at 10 am on May 8, which will be attended by Rabindra exponents, Rabindra artistes, cultural personalities, litterateurs, editors from different media houses and directors of Channel i, among others.
To note, Channel i is honouring one Rabindra Sangeet singer or Rabindra researcher with lifetime achievement award every year.
Earlier, Kalim Sharafi, Ajit Roy, Rezwana Choudhury Bonna, Fahmida Khatun, Dr. Anisuzzaman, Sadi Muhammad and Dr. Ahmad Rafique were bestowed with the prestigious Rabindra Mela award.
Source: Weekly Holiday