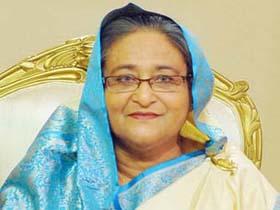 Prime Minister Sheikh Hasina on Sunday urged Chinese entrepreneurs to invest more in Bangladesh, particularly in setting up new power plants in special economic zones.
The Prime Minister came up with the call when a Chinese delegation, led by Ambassador Li Jun, paid a courtesy call on her at Ganobhaban.
After the meeting, Prime Minister's deputy press secretary Bijan Lal Dev briefed reporters.
The Prime Minister said Bangladesh needs more electricity to meet its growing demand and ensure further socioeconomic development, and thanked the Chinese government for its continued support to Bangladesh.
At the meeting, the Chinese delegation lauded Bangladesh's marked development, particularly in the power sector, in the last couple of years.
Chinese Ambassador Li Jun said as 'developing countries' both sides understand problems, prospects and better strategies for the development which the two countries can share for mutual benefits.
Mentioning that a number of projects have been implemented in Bangladesh with Chinese cooperation, Ambassador Li Jun expressed Chinese interest in investing in the EPZs.
The Chinese team members said Beijing is very encouraged to take part in Bangladesh's socioeconomic development. Such cooperation will be a win-win situation for both sides, they said.
The Chinese delegation members mentioned that many projects are being implemented in Bangladesh with Chinese cooperation.
The delegation also apprised the Prime Minister about setting up a 1320 MW capacity coal-based power plant in joint venture at Pekua of Cox's Bazar using Super Critical Technology.
PMO secretary Md Abul Kalam Azad and Power Division secretary Manwarul Islam were, among others, present.
Source: UNBConnect